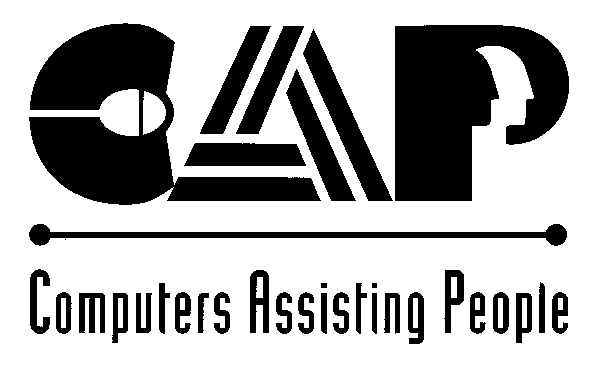 Background
---
CAP Inc. is a 501(c)3 non-profit Ohio corporation formed in 1997. It started a few years before that as a project of the Greater Cleveland PC Users Group.
At a gathering of user group leaders at Fall Comdex in the early 90's, a video was shown that demonstrated how one user group had worked on a donated system for a mother with ALS. Their efforts allowed this woman to "speak" to her children for the first time using the PC and some other technology.
It was a very moving presentation and many of those in attendance decided to start similar projects with their home user groups.
The CAP project started by gathering donated computer equipment, parts and software and testing and doing repair work to create functional systems that were then donated to worthwhile causes.
With growth we began to run into problems. We received many more requests for equipment than we had PCs to give. We did not have adequate warehouse space or equipment to handle the activities. Our irregular hours and lack of a phone line or secretary caused us to miss out on some great opportunities.
At a conference for 60 leaders of similar projects in 1997 sponsored by the National Cristina Foundation, we learned that other successful groups were run as non-profit corporations with a budget for facilities, equipment and staff. It was projected that while the existing program could continue at the current pace, a more formal structure would allow us to reach hundreds more who were in need. CAP Inc. was formed to provide the necessary structure to the project so that we can contribute more computers and technological help to those who really need it.
Until late 2001, the Greater Cleveland PC Users Group had been contributing to the rent of the Resource Center (where the work is done, systems stored, etc) but as of 2002, CAP Inc is on its own.
Many other user groups that are members of the Association of Personal Computer User Groups (APCUG) have similar community service projects in their area. Many of these projects have also spun off from the user group, as CAP did, as the project grew.
Back to Home
Questions or Comments

Copyright 2002 Computers Assisting People Inc. - All Rights Reserved.