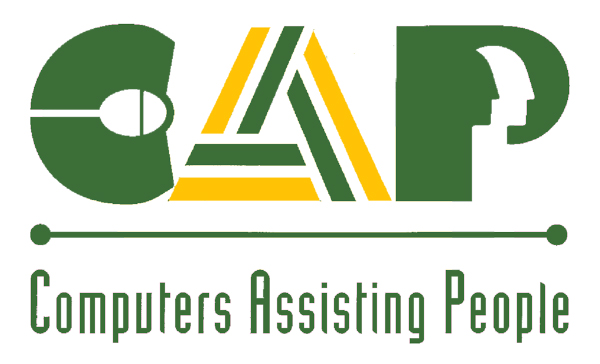 Long before the term "digital divide" became ubiquitous,
CAP volunteers were working to bring the life-changing power of technology
to all the people of Cleveland and beyond.
CAP is all about Digital Inclusion
---
Save the Date - CAP Community Day
Saturday March 25,2023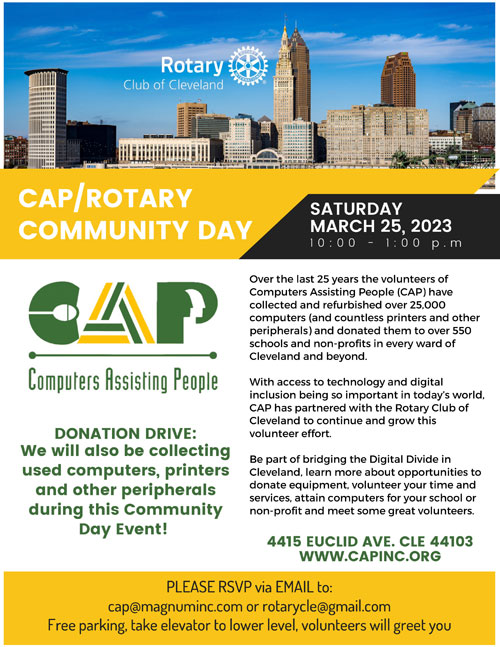 ---
Please Donate if you can - We are all Volunteers!
If you like what CAP is doing and want to help us stay open,

you can click the button belowto securely make a donation to CAP through PayPal

or mail a check to CAP, 868 Montford Rd. Cleveland 44121.

Computers Assisting People, aka CAP Inc., is a 501(c)3 non-profit Cleveland Ohio corporation.

CAP volunteers donated hundreds of PCs this year and last to organizations and individuals
so they could work/learn from home during the pandemic.


---

News

About CAP
Who we are, What we do, Mission Statement, History, Contact Info, Hours of Operation Receiving Help from CAP
Requirements and How to receive PCs or other help from CAP Helping CAP
Volunteer, Donate equipment, Donate funds Thanks from CAP
Thanks to our Volunteers and Supporters Organizations we've helped
CAP has assisted over 500 schools and non-profits in Cleveland and nearby Picture Page
Pictures of Volunteers, Recipients and Success Stories



---

Volunteers are available at the CAP Resource Center as follows:
Business Days: Mondays and Thursdays only from 2:30 PM to 5:00 PM
Telephone (216)-781-1757 "Please leave a message" at Mailbox 2
---
12 PCs to East Mt. Zion Baptist Church - 11-6-21
CAP volunteers just donated 12 PCs to East Mt. Zion Baptist Church at 9990 Euclid Ave.
---
25 PCs to Family Promise - 10-6-21
CAP volunteers just donated 25 PCs to Family Promise of Cleveland whose mission is "We provide families facing the crisis of homelessness with a safe place designed to engage, inspire, and guide them toward a future where they feel empowered to control the course of their lives".
---
10 PCs to a great organization in Hough
CAP was happy to donate 10 PCs in October 2019 to East 88th Street Browns Youth Organization at 8611 Hough Avenue, Cleveland to help with their mission: "Our mission is to foster safe environments for learning life skills, improving academic abilities and engaging in physical activities through organized Football, and Cheerleading by utilizing Education, Mentoring and Traveling Programs to inspire a productive driven, and successful spirit into children living in urban environments."
---
We never said it's the Taj Mahal
Visitors are often surprised at how busy the CAP Resource Center is. Lots of PCs, parts, tools, components, monitors, etc. It may not make the Office Beautiful magazines but it works for our volunteers.

Let us know if you want to visit.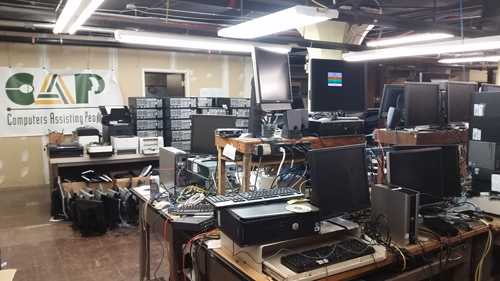 Part of the CAP workspace
---
Thanks for the support from the Rev. Dr. Steven Rowan and Bethany Baptist Church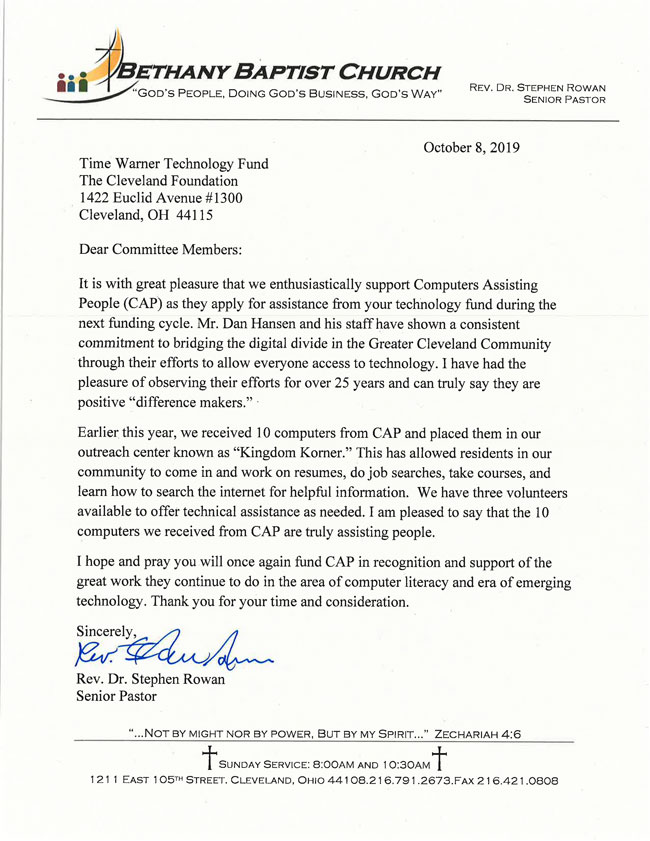 ---
Thanks for the support from the City of Cleveland, Division of Recreation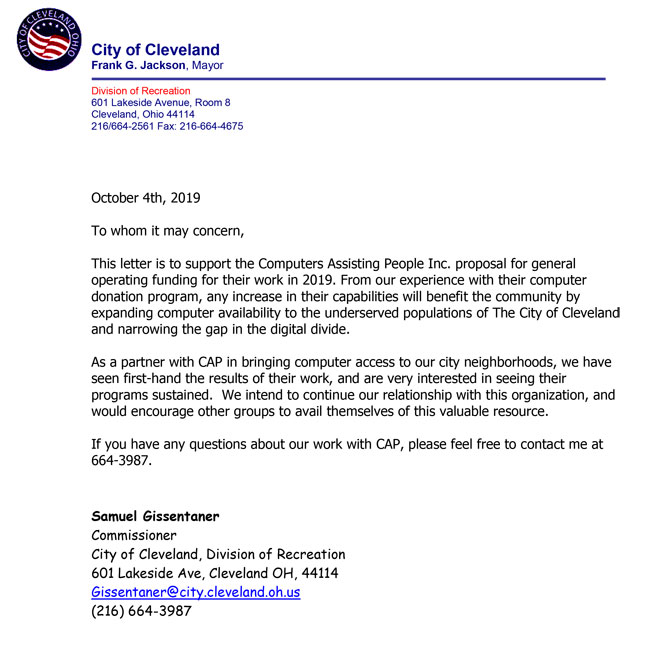 ---
Thanks for the support from Ashbury Senior Computer Community Center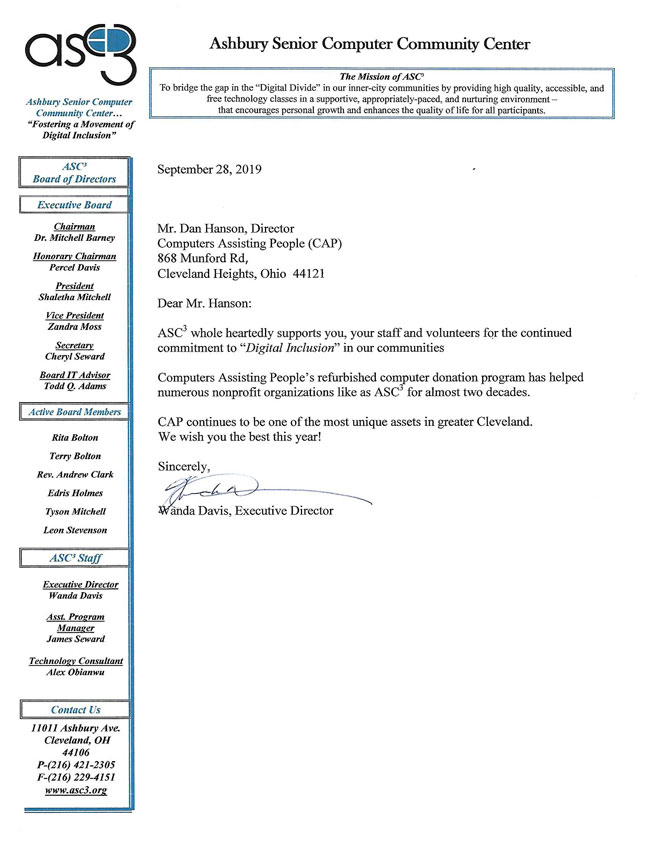 ---
Dan Davenport and Ken Eskridge
With great sadness we have to report that CAP has lost two of our most dedicated volunteers who have been with us from the start. Dan Davenport and Ken Eskridge were born within a week of each other in August 1926 and passed away one week apart 92 years later in early 2019. They were the heart and soul of CAP and are greatly missed.

We are sure they are involved in many projects helping people in heaven. RIP Dan and Kenny.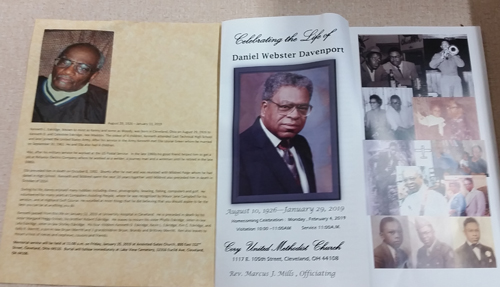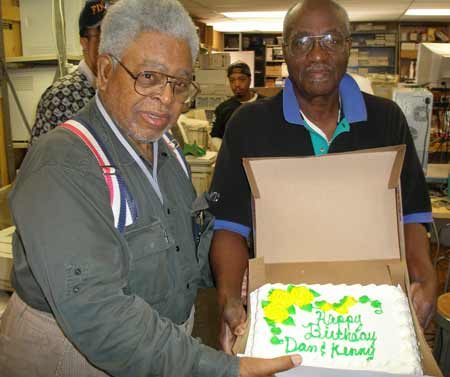 Dan Davenport and Ken Eskridge share a birthday cake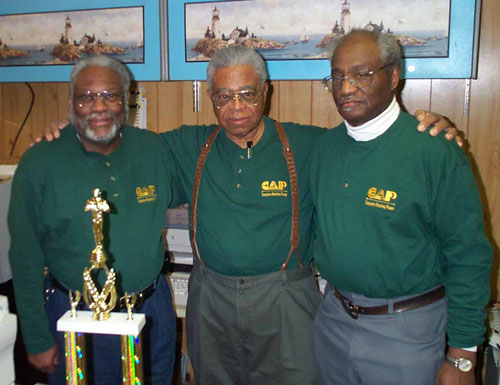 Dan Davenport and Ken Eskridge with CAP volunteer Arthur Phelps
---
Donate don't discard
Our colleagues in Kansas City produced this short video about refurbishing a laptop for the community. Check it out.




---
Winter and Holiday Hours
Winter and Holiday hours for volunteers at the Resource Center are primarily Monday and Thursday afternoons and by appointment. Please contact us if you can't make it down during those times.
---




Copyright 2021 Computers Assisting People Inc. - All Rights Reserved.