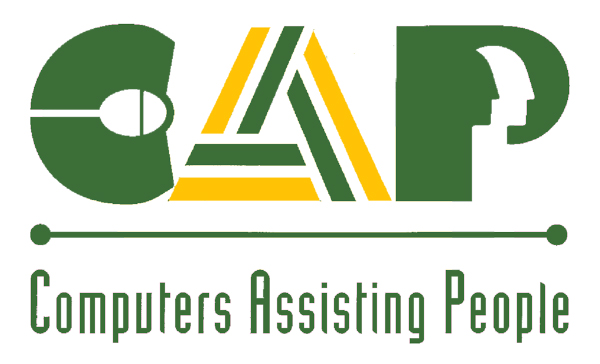 Helping Computers Assisting People with our Mission
Computers Assisting People aka CAP Inc. is a 501(c)3 non-profit Ohio corporation formed in 1997. Long before the term "digital divide" became ubiquitous, CAP volunteers were working to bring the life-changing power of technology to all the people of Cleveland an beyond.

CAP Inc. relies on volunteers and donations and is pursuing grants and other fund-raising opportunities.
Equipment
We need a steady supply of donated computers, printers and software as well as business and office supplies and equipment. Our criteria for accepting donations is based on the needs of the eventual recipient non-profit organizations. We are currently accepting PCs that are able to run Windows 10 (we have legal licenses from Microsoft for Windows 10). Please don't remove the RAM or CPU or hard drive before you donate. We don't need stripped systems that turn out to be a case and unpopulated motherboard.

We will make sure that your hard drive is completely wiped before we donate it. We uses a process recommended by the Department of Defense where each hard drive is completely overwritten with a random series of 0's and 1's. We do this 3 times. We still recommend that you wipe, format, fdisk your hard drives before doantion. We will not keep anything (software, drivers, data) from your system. It will be wiped completely.

Besides PCs,
We accept working printers but often the ink cartrdiges cost more than the printer itself so please don't just dump an old printer with no ink on us.
We no longer accept the large CRT monitors, just flat screens.
We always need large hard drives, DVD drives, RAM (memory), networking gear, USB keyboards and mice, etc.
Our recipients are always looking for laptops, tablets and other mobile devices.
We also have requests for recent or current versions of specialty software (Photoshop, CAD, educational, etc.)
Volunteers
CAP runs on volunteers so we always need people. Various levels of skill and commitment are needed. If you can help every week - great! If only once a month or less, we still need you.
We need technically skilled volunteers to refurbish PCs and equipment. We will train you.
We need volunteers to help us pick up and deliver donations.
Volunteers are needed for dealing with the public - phone calls, meetings, determining needs and coordinating
Volunteers are needed to train others - both at CAP and maybe offsite
Volunteers are needed to help set up networked labs, follow-up support and so on.
Volunteers are needed for office works such as data entry and phone calls
Finances
Of course we are in desperate need of financial contributions to maintain and grow the program. We need to pay the rent and utilities and waste and occasionally buy some tools and equipment for our work.

Since we are a 501c3 non-profit, you (or your company) may be able to deduct your donation from your taxes. When you donate something, you are given a signed receipt listing the items that you gave. We keep a copy for our records. We do not put a value on the items that you donate. Please consult a tax professional for more information.

Any amount is appreciated and will be used frugally.
If you like what CAP is doing and want to help us stay open,
you can click this button to securely make a donation to CAP through PayPal.
---
Contact Information
The CAP Resource Center is located at 4415 Euclid Ave. Cleveland, OH 44115. We are on the Lower Level (press LL on the elevator)

Link to the Google Map


You can e-mail CAP at cap@magnuminc.com


CAP is on Facebook so please "like us"

CAP is also on Twitter

so please follow us.

Our mailing address is
Computers Assisting People Inc.
868 Montford Rd.
Cleveland, OH 44121


---
Top of Page
Back to Main CAP Page
Copyright 2017 Computers Assisting People Inc. - All Rights Reserved.