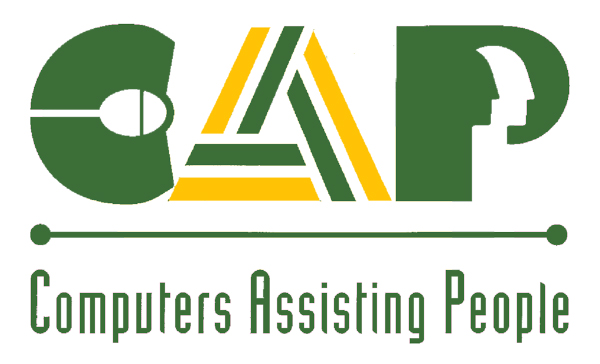 Computers Assisting People Photo Page
Here are some photos of volunteers, recipients, awards and success stories of Computers Assisting People aka CAP Inc.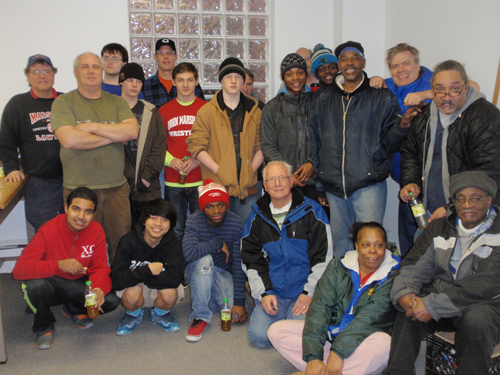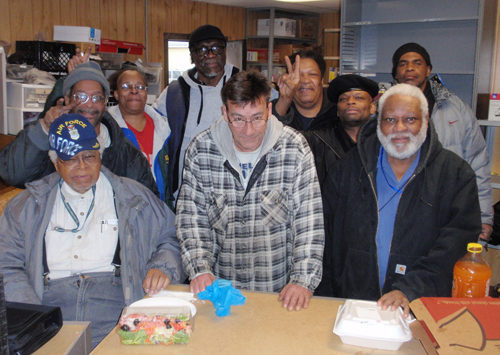 Some of the CAP volunteers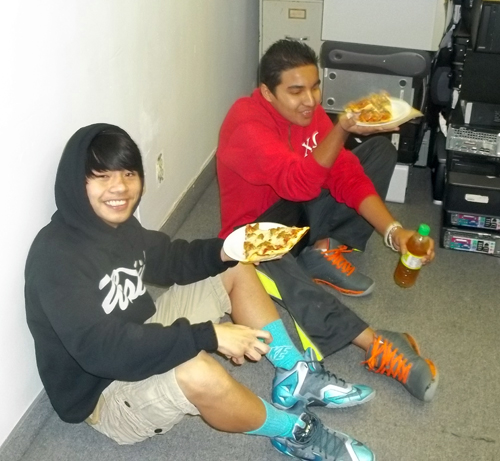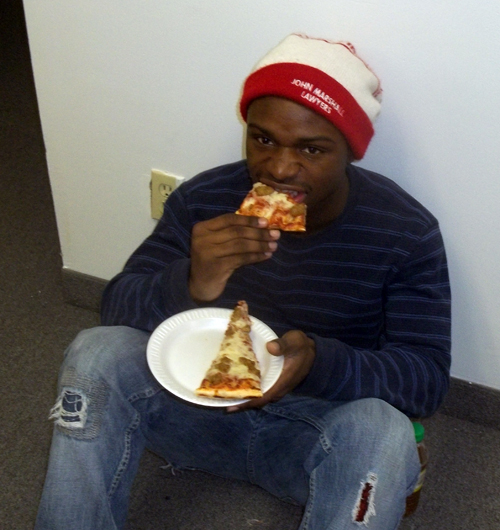 John Marshall students taking a break from helping



Thanks to John Marshall HS teacher Dan McMillan and his fellow teacher Robert Fast who brought 7 students to help move CAP from our old location. The students who volunteered were Anderson Nguyen, Roshan Adhikari, Michael Staley, Issac Patton, Ryan Werner, Mitchell Toppins and Jaque Elama.
---
International Women's Air & Space Museum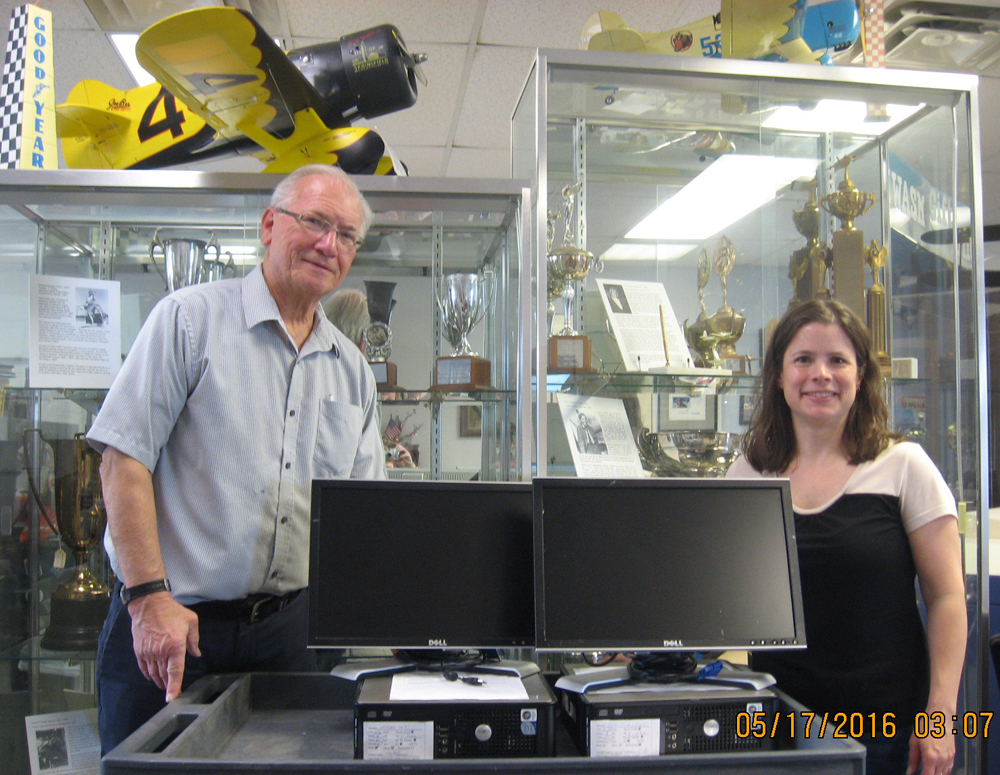 CAP Volunteer Len Nagel with IWASM recipient


---
Union Grove Baptist Church at 8932 Quincy Ave



CAP Volunteers love to work with a community to help provide a safe, comfortable, educational destination right in the neighborhood. Union Grove at East 89th and Quincy is one of our favorites. CAP volunteers helped set up a training lab and the good people at Union Grove offer a series of classes to people in the community. When the people complete their training, they get to take home a PC. And CAP replenishes the Union Grove lab with newer PCs. It's been going on for years!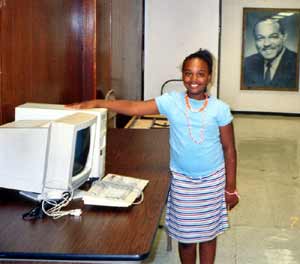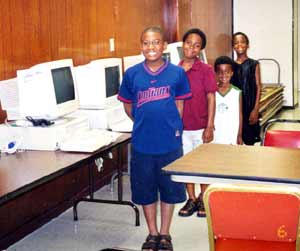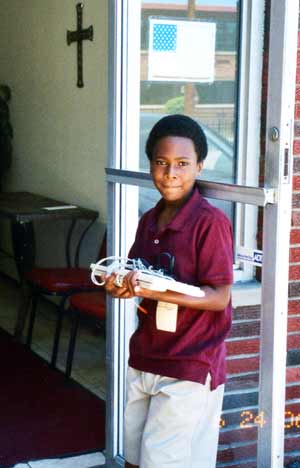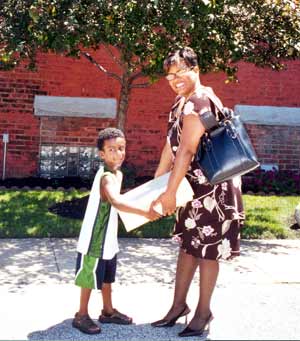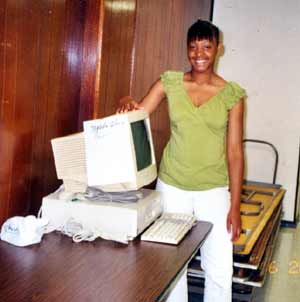 ---
Some of the students in the PC Lab at Plan Ahead (Overcome Life Struggles) at 3484 Martin Luther King Jr. Drive.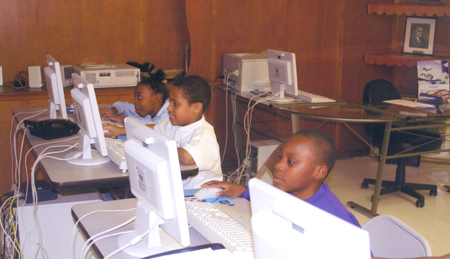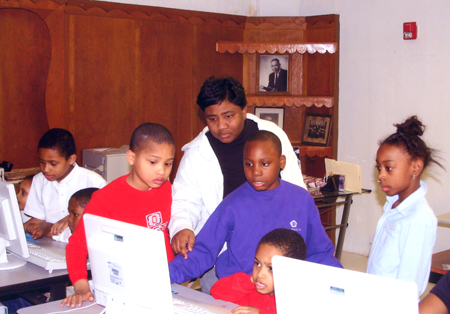 ---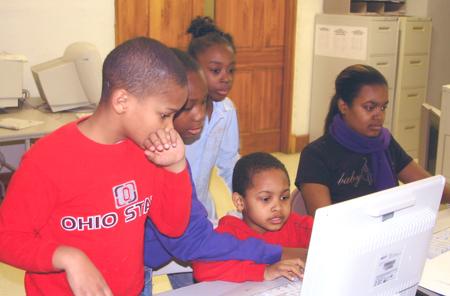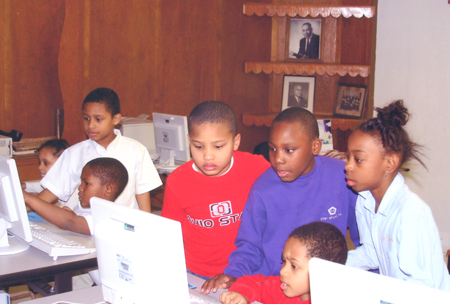 ---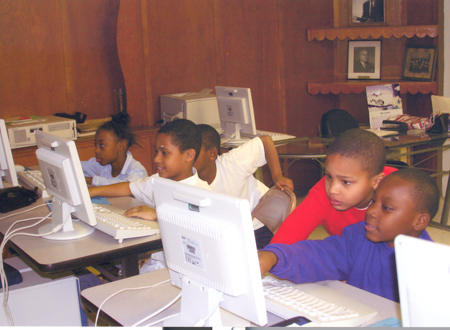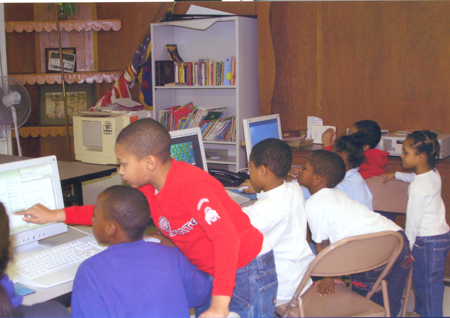 ---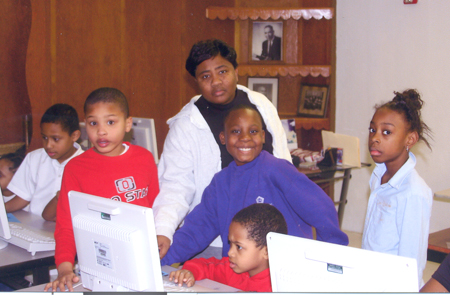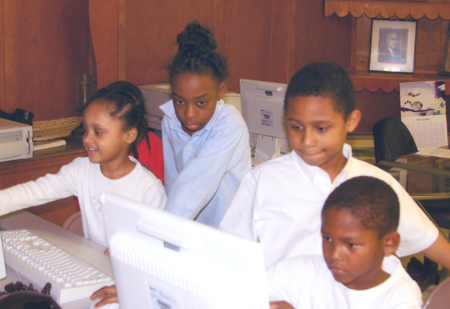 ---
Straightway Project PC Lab at 9215 St. Clair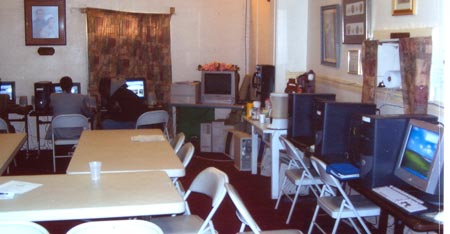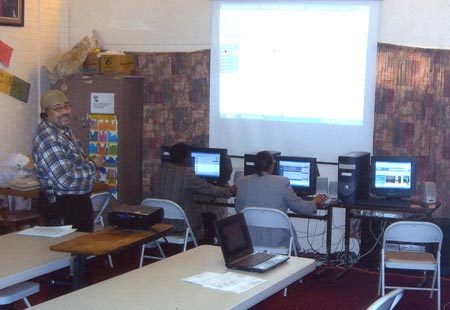 Pastor France teaches the Bible to several people at once in the new Straightway Project PC lab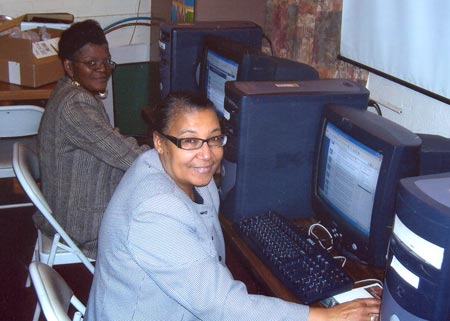 Deaconess Pat Freeman and Deborah France
---
Early Sunday morning work session after unloading a truck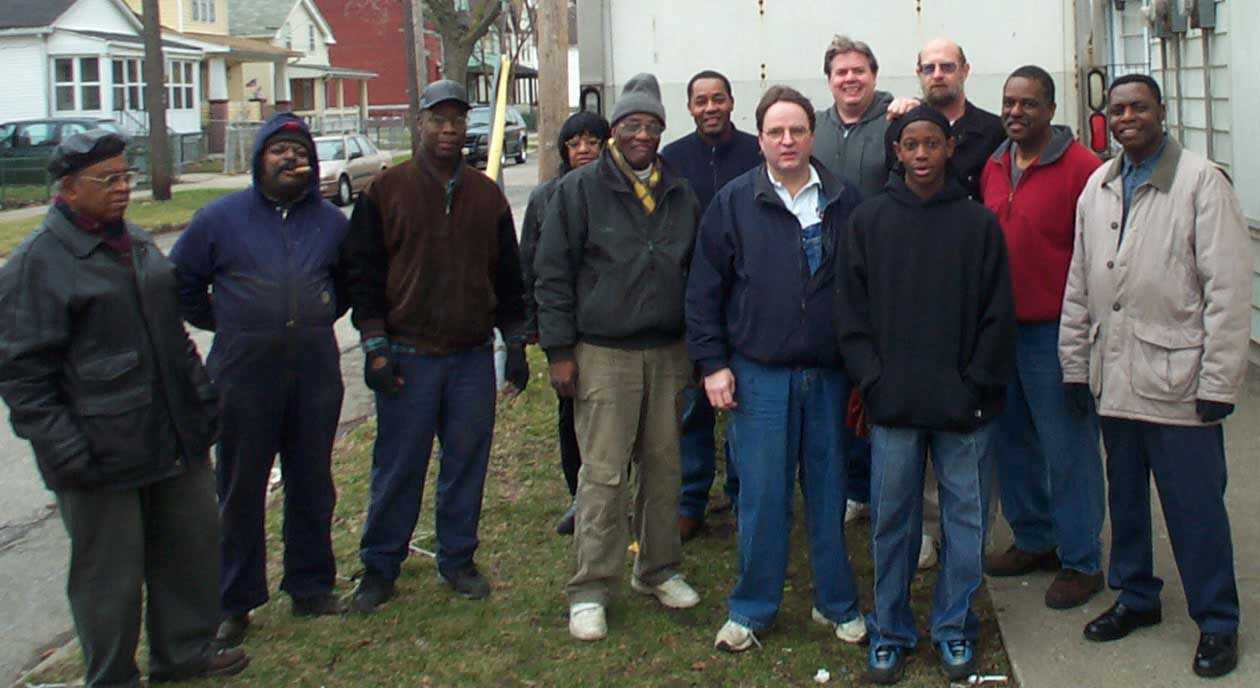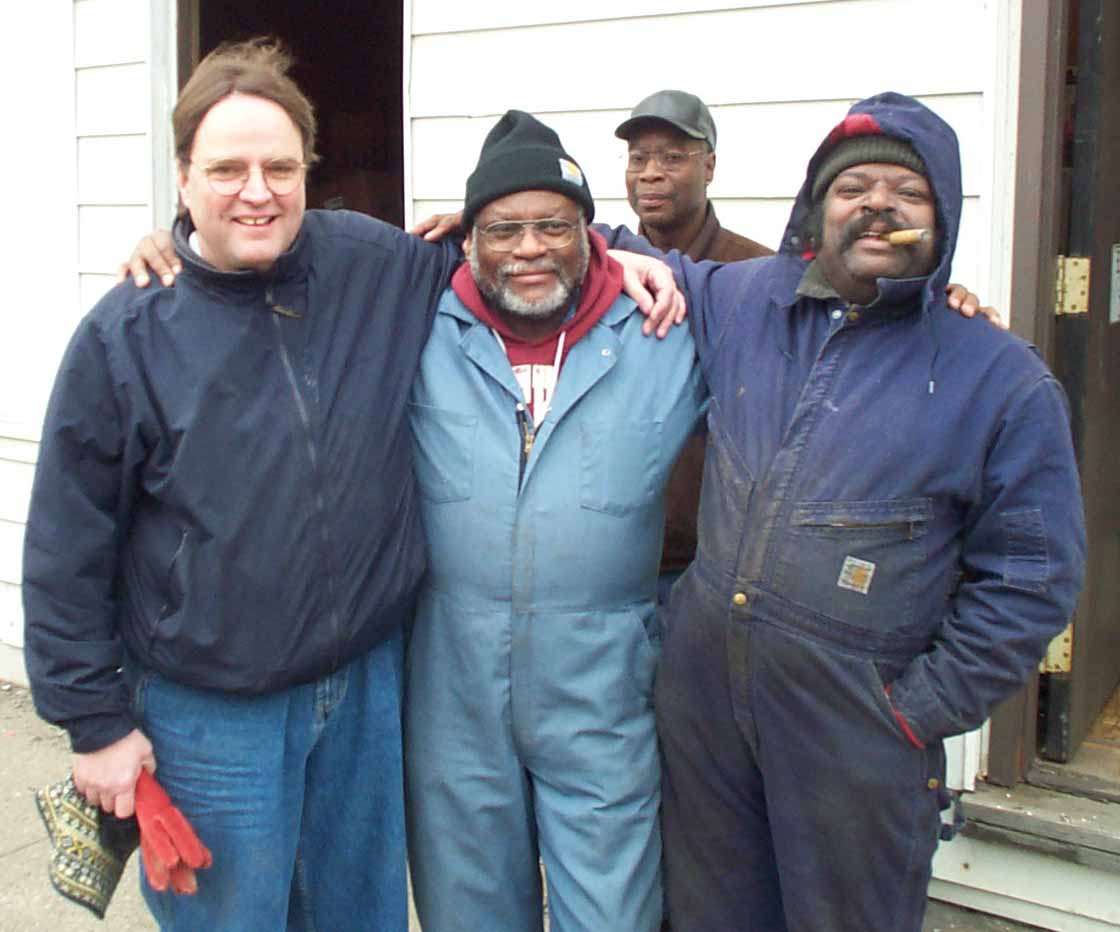 ---
CAP and Glenville High School volunteers unloading a truck from a donation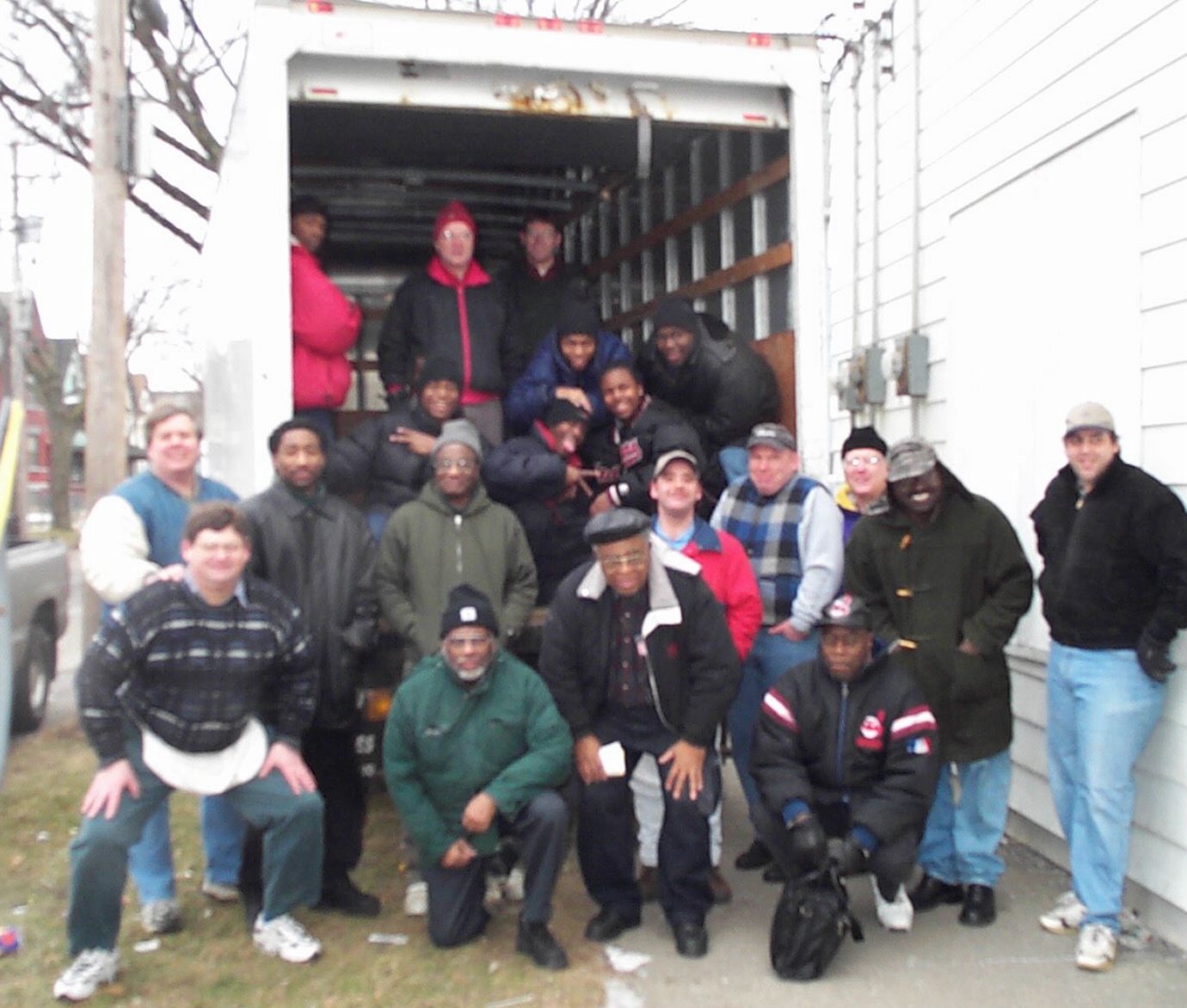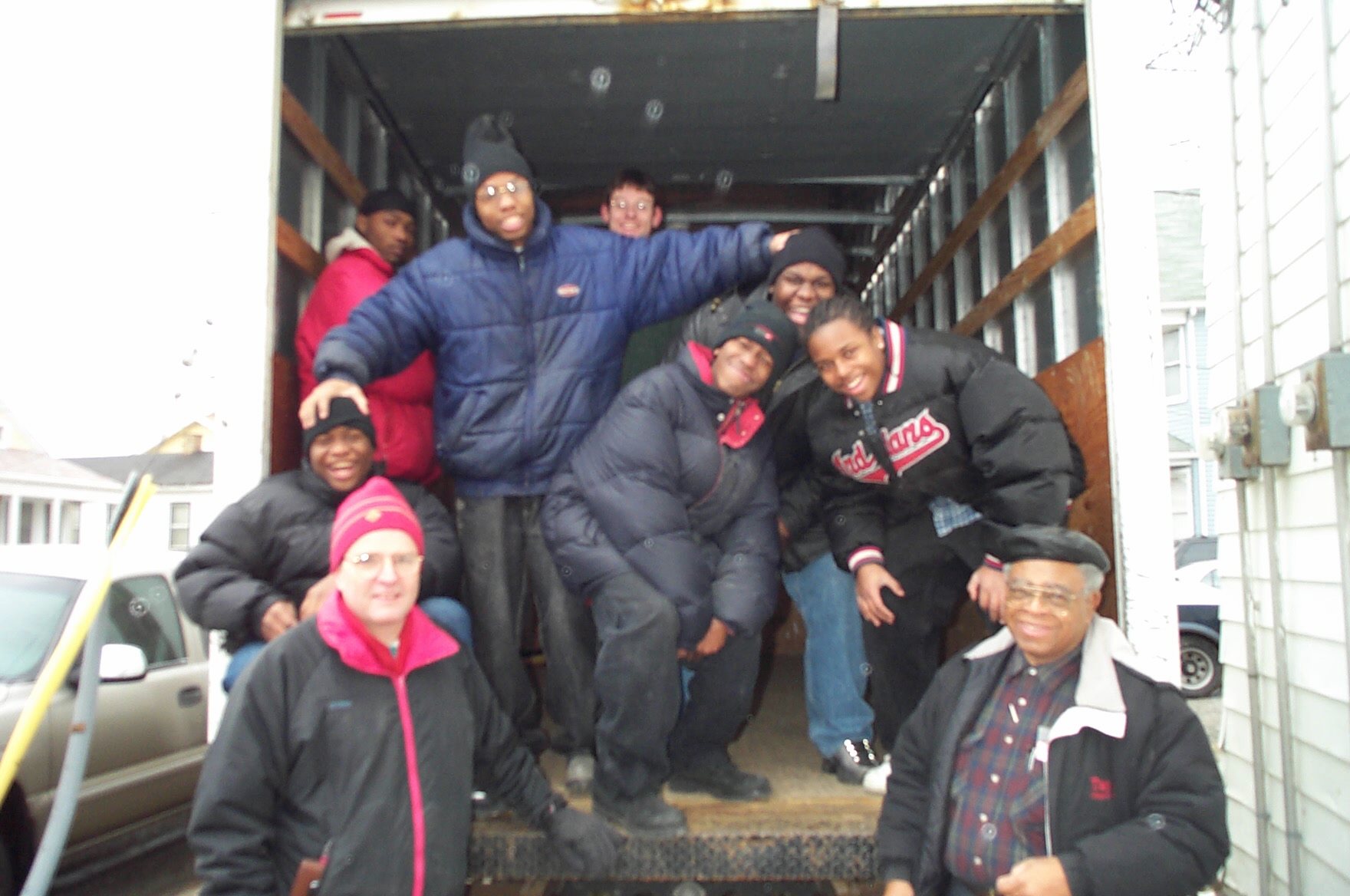 Glenville High School volunteers Cedric Baker, Tyrone Delorch, Marcus Ivy, Carnell Matthews, John Harper and Eric Krone with CAP volunteers after helping to unload 70 PCs.
---
Emmanuel Christian Church - 8201 Superior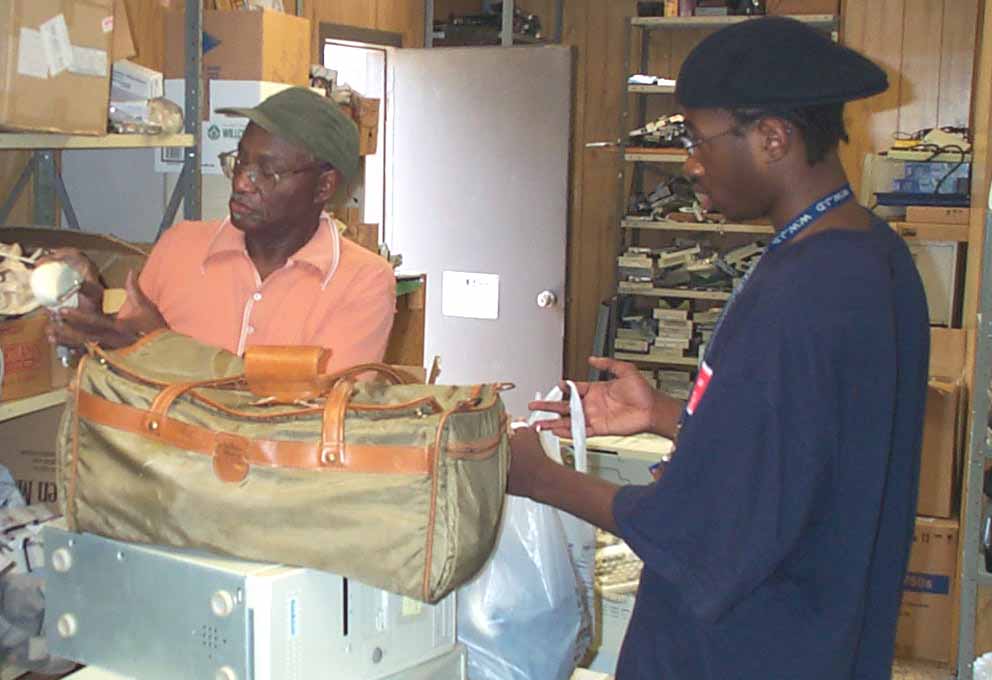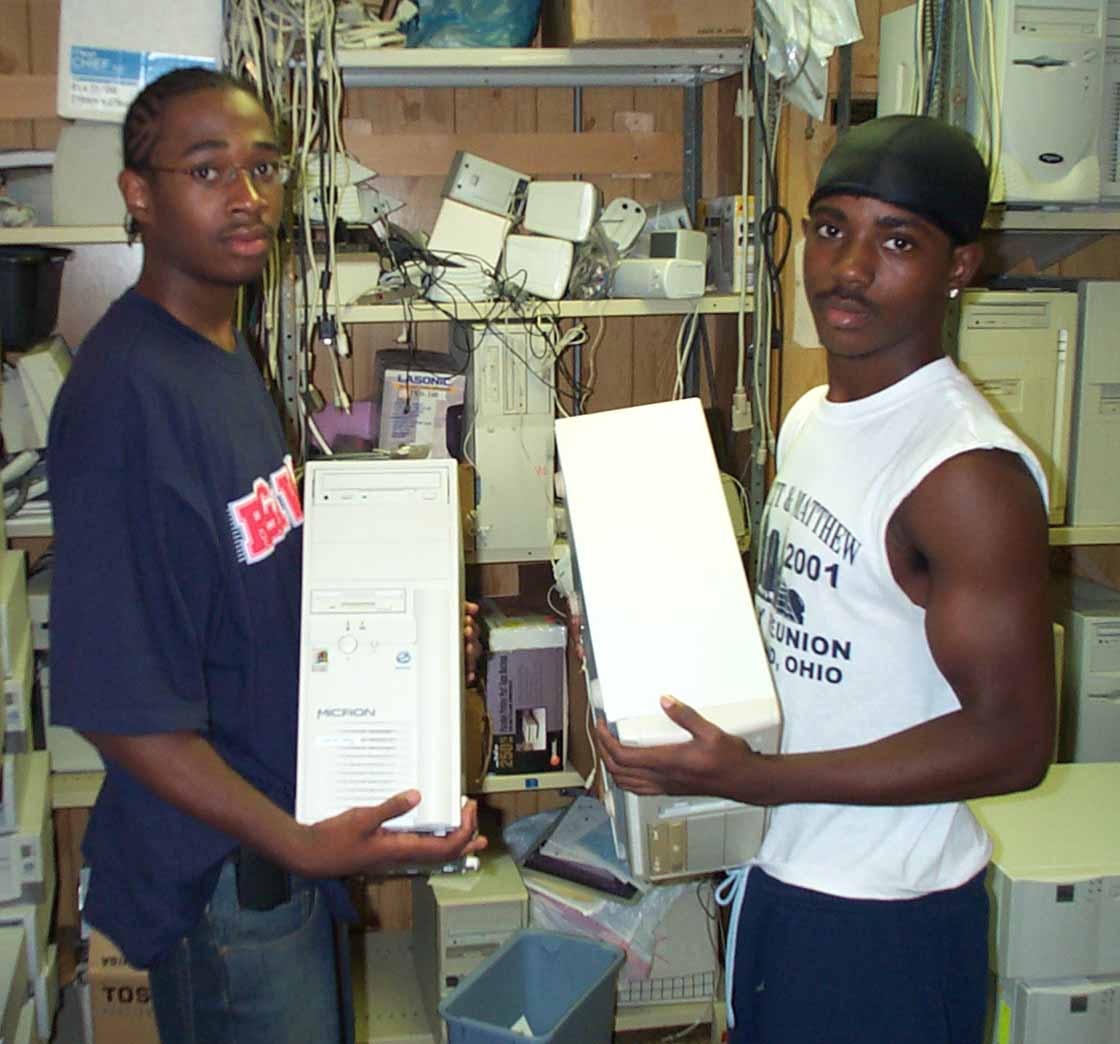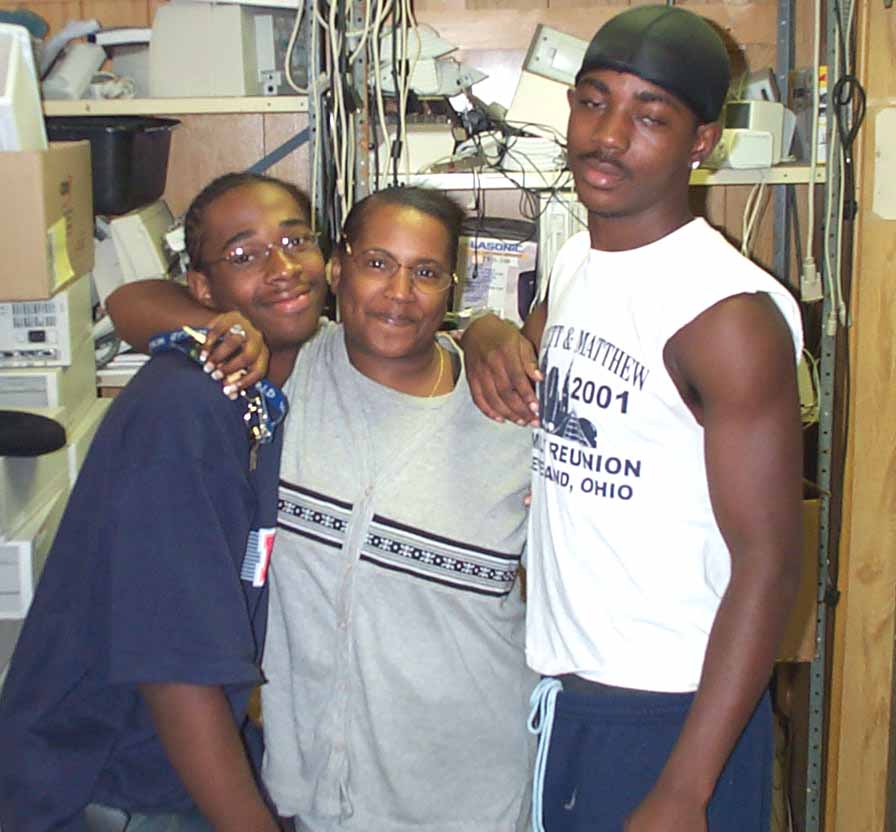 Anthony Dunn, Dorothy Hunter and Jermaine Hunter are happy to get
their new computers for Emmanuel Christian Church
---
CAP Work/Learn Session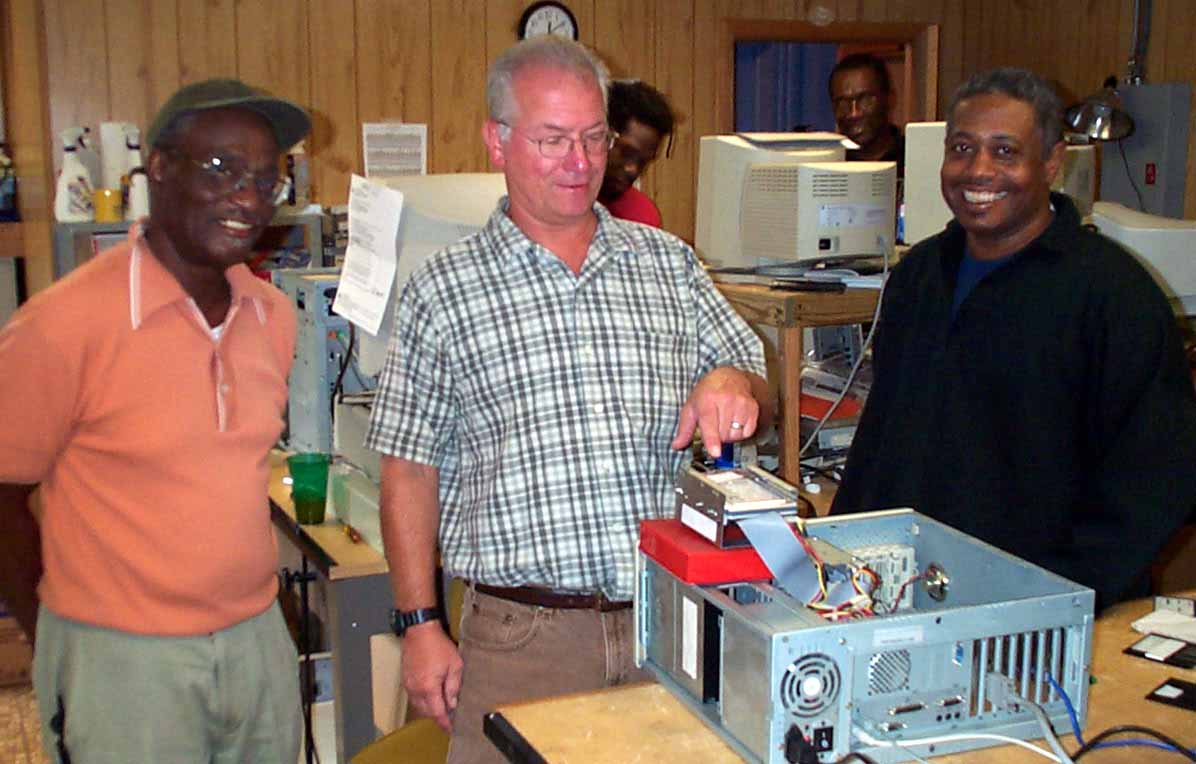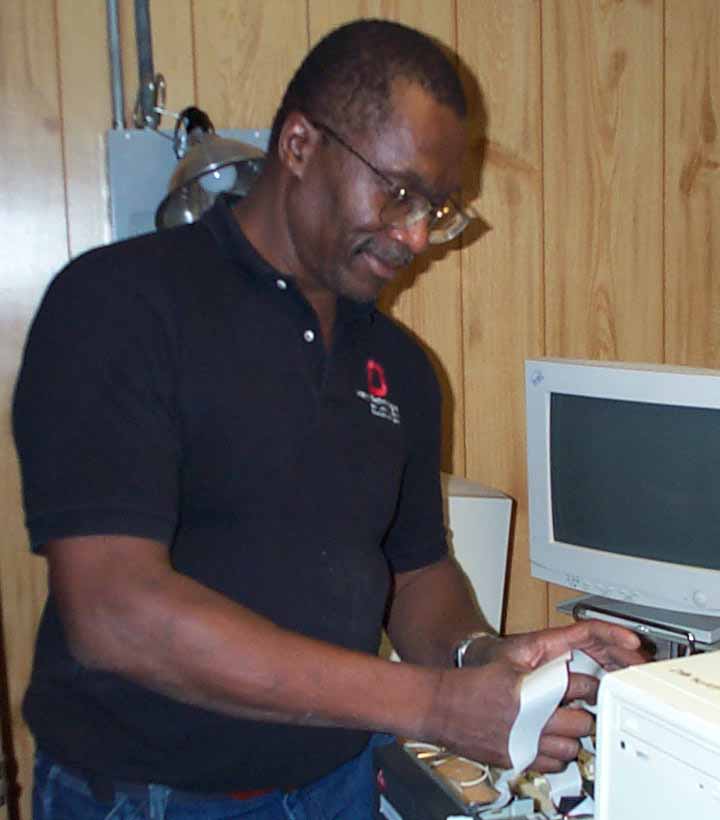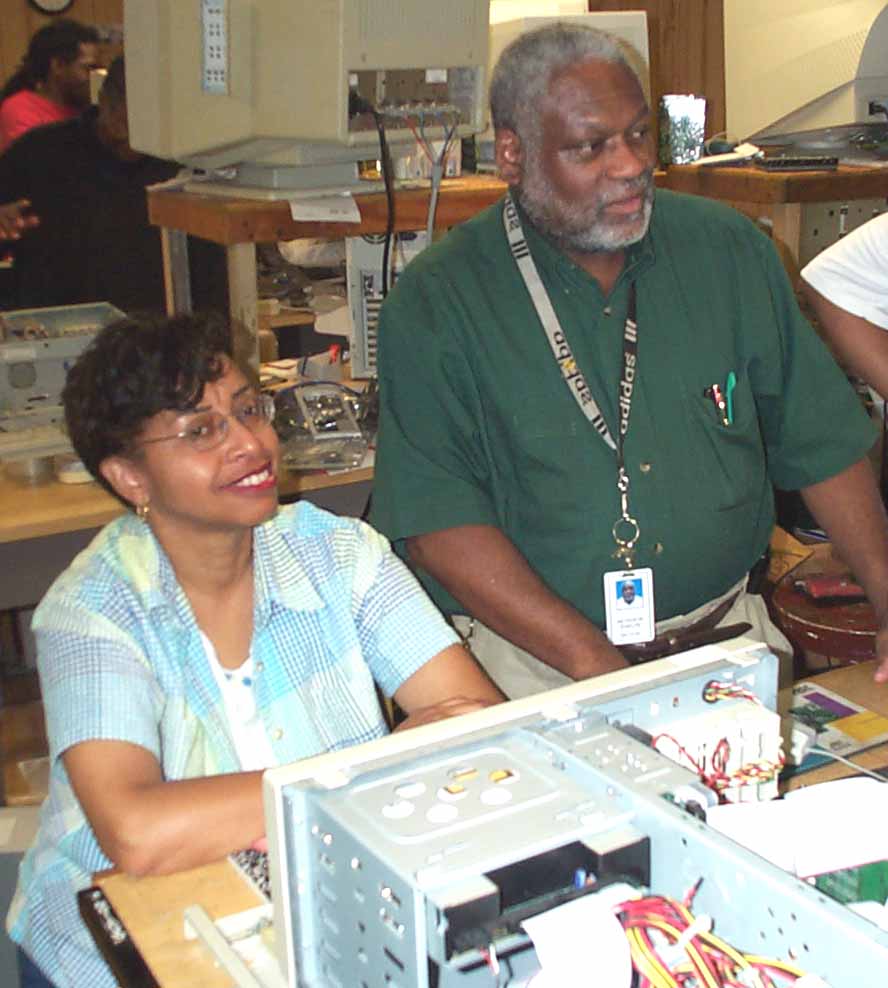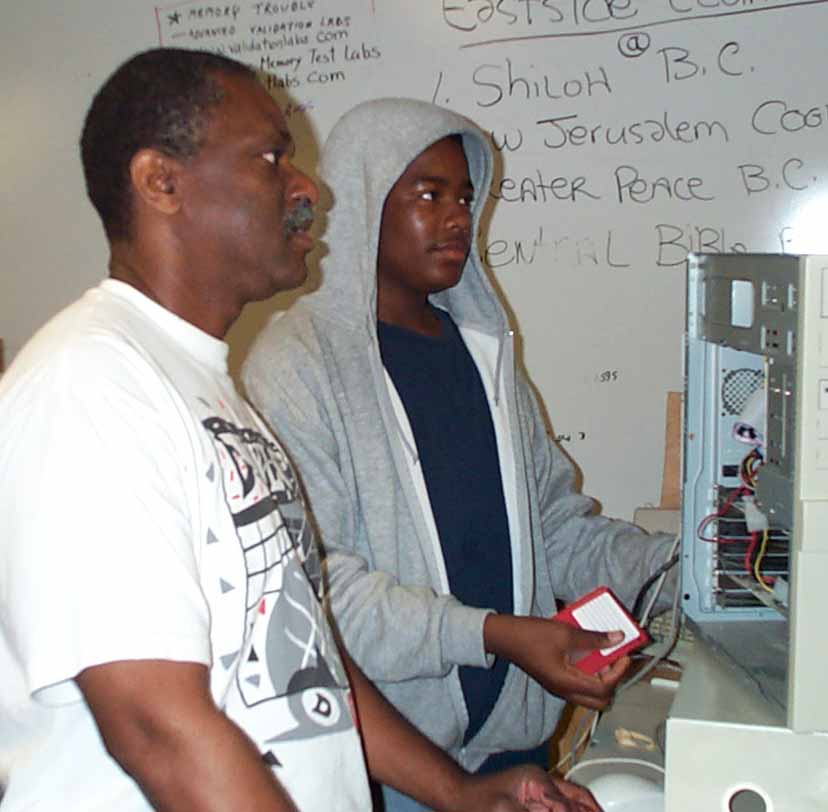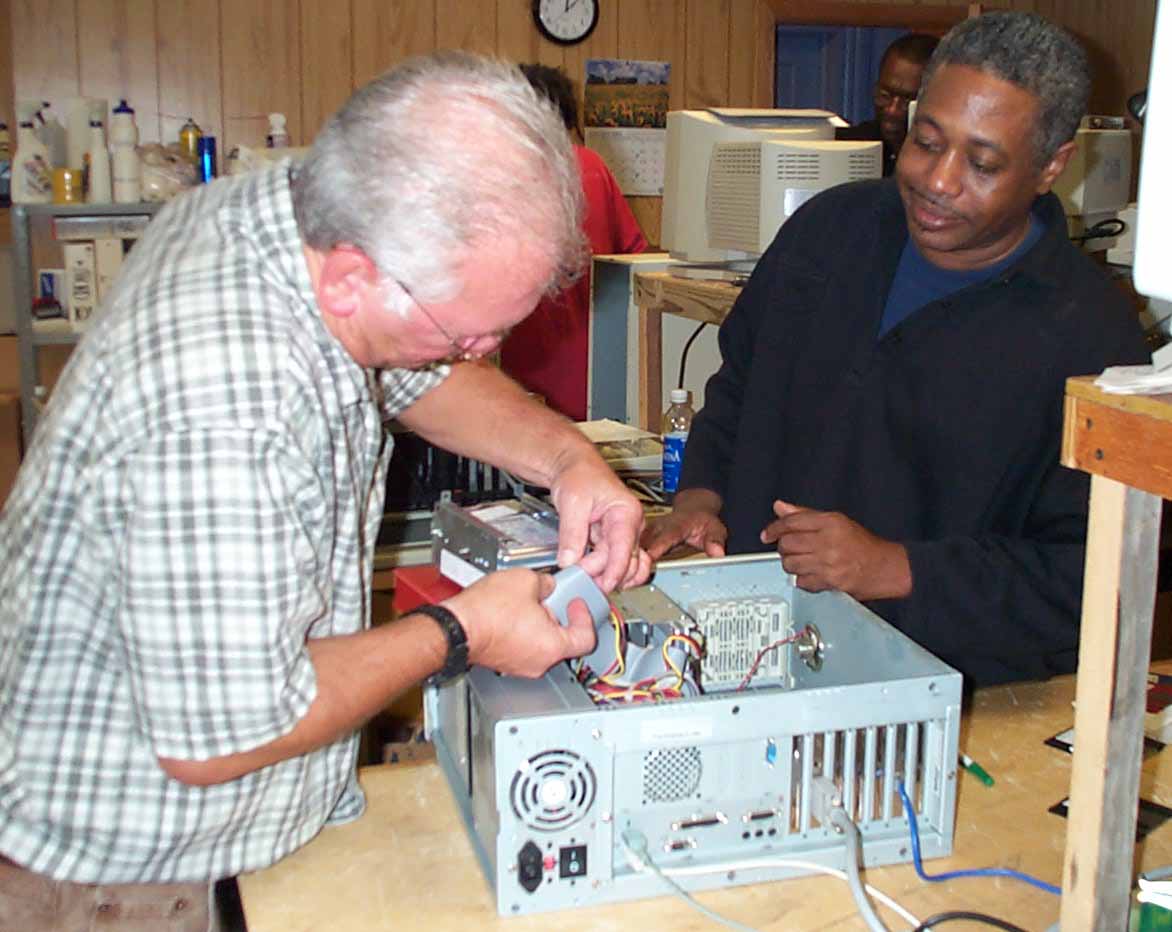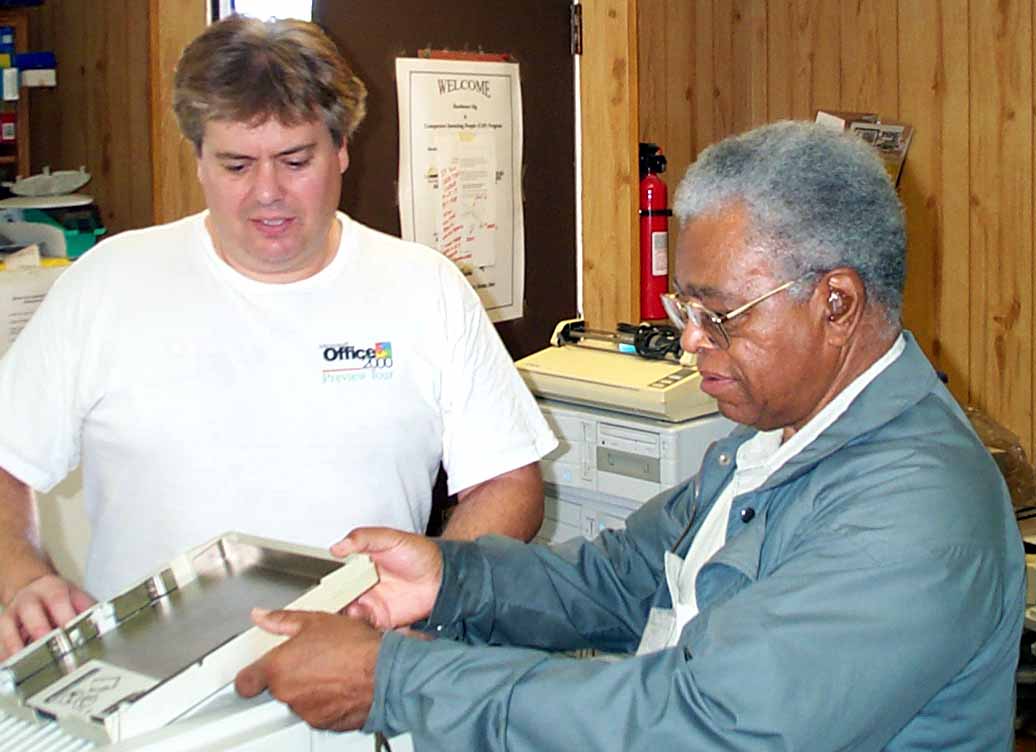 ---
Dan Davenport Community Service Award from Emmanuel Christian Church at 8201 Superior Ave.



Congratulations to CAP's Dan Davenport who received the Outstanding Community Service Award from Emmanuel Christian Church at 8201 Superior Ave. Dan gave a presentation to the students and community as part of a Martin Luther King day program and was surprised to be honored with the award. Knowing Dan, if they had told him he would be receiving an award he would not have shown up. But since he was speaking to the kids, they knew he would be there.

Congratulations Dan - you deserve it!<.p>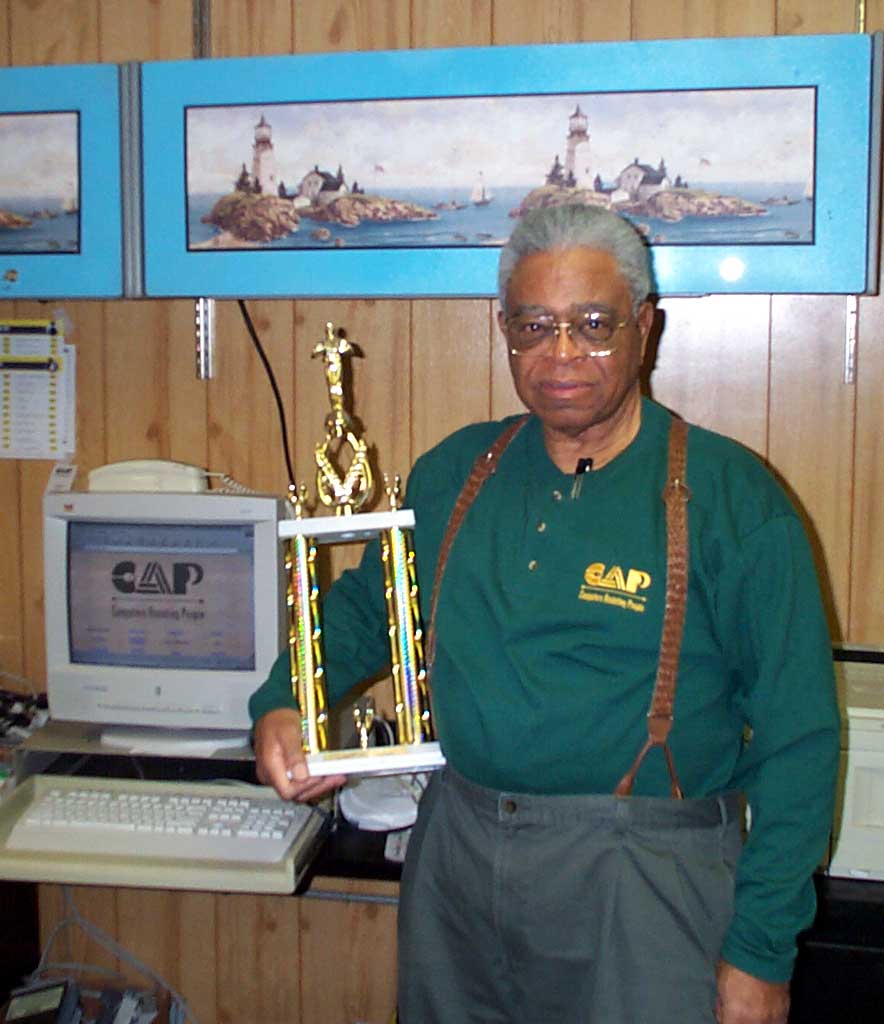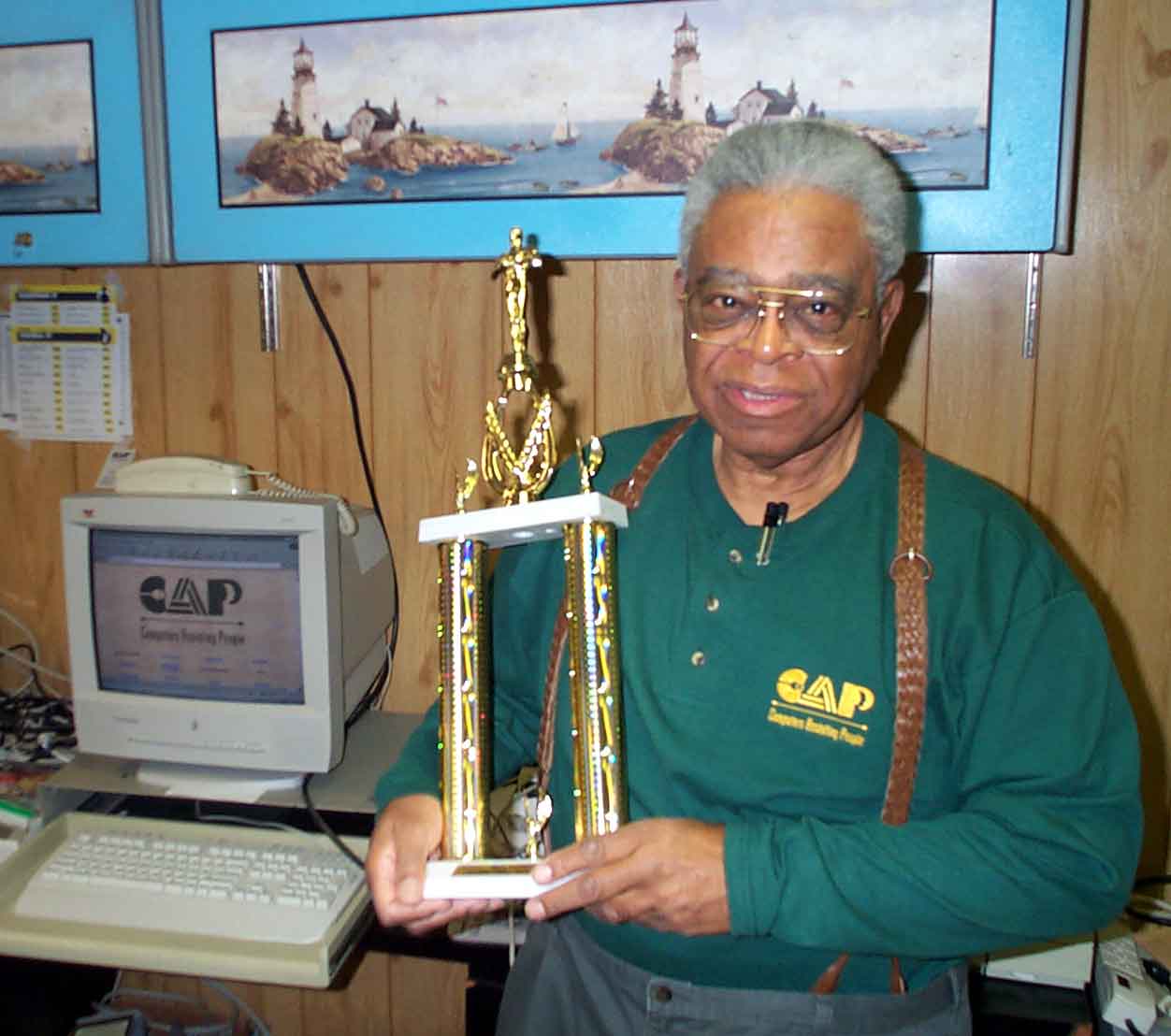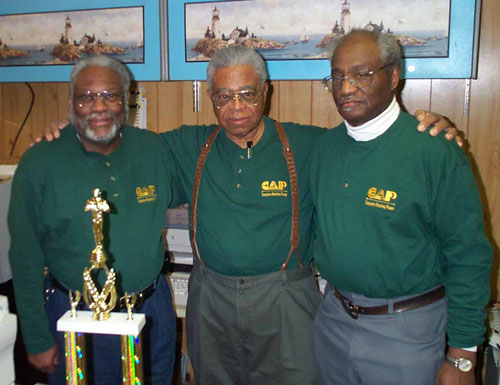 The Three Musketeers! Arthur Phelps, Dan Davenport and Ken Eskridge
---
Blast from the Past - Zion Hill Missionary Baptist Church (11115 Kinsman Ave) on 4-19-03

CAP volunteers built up refurbished computer systems for donation and then set up a computer lab at Zion Hill Missionary Baptist Church.

Cleveland Mayor Jane Campbell and Councilman Zack Reed attended the opening.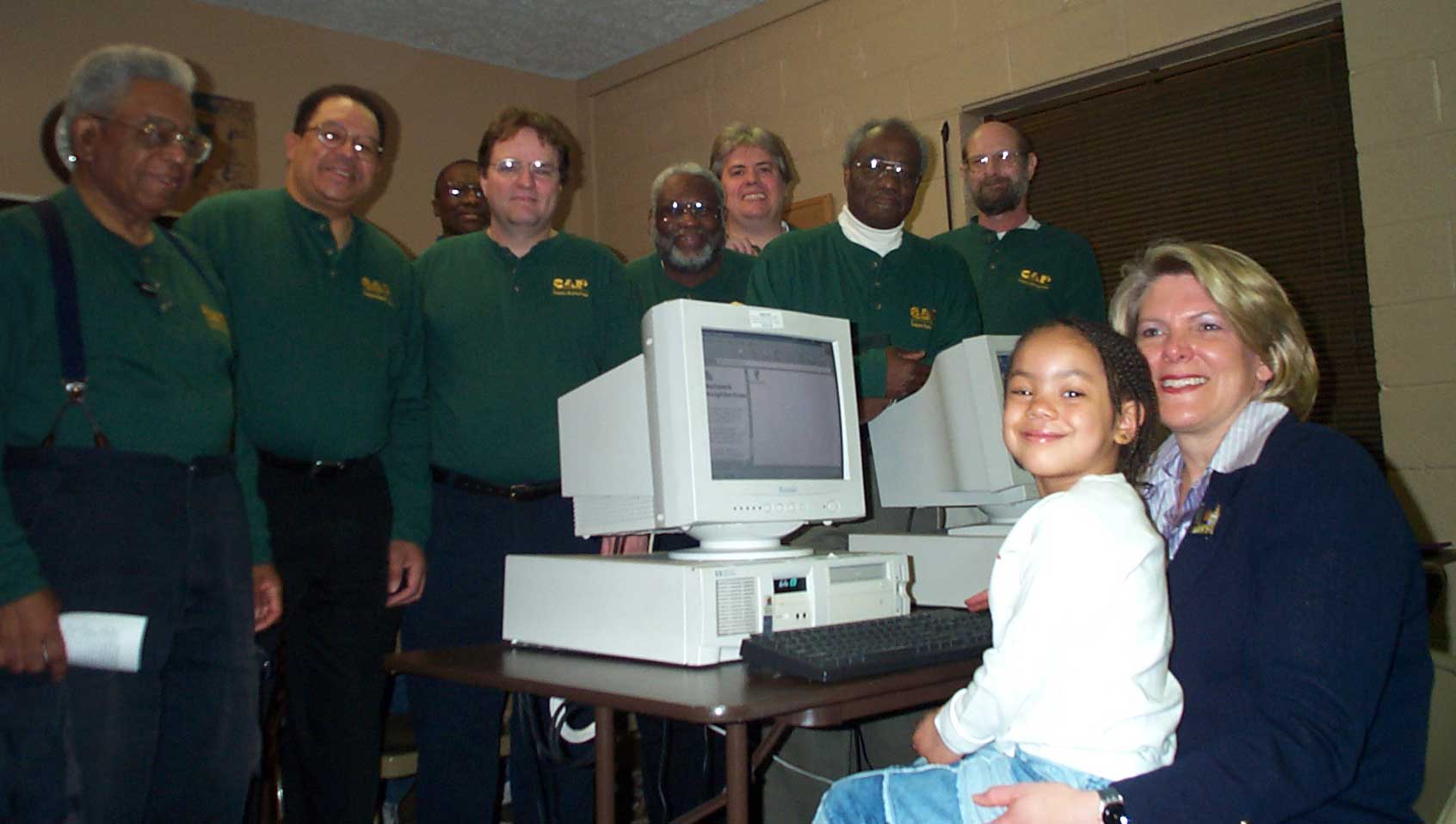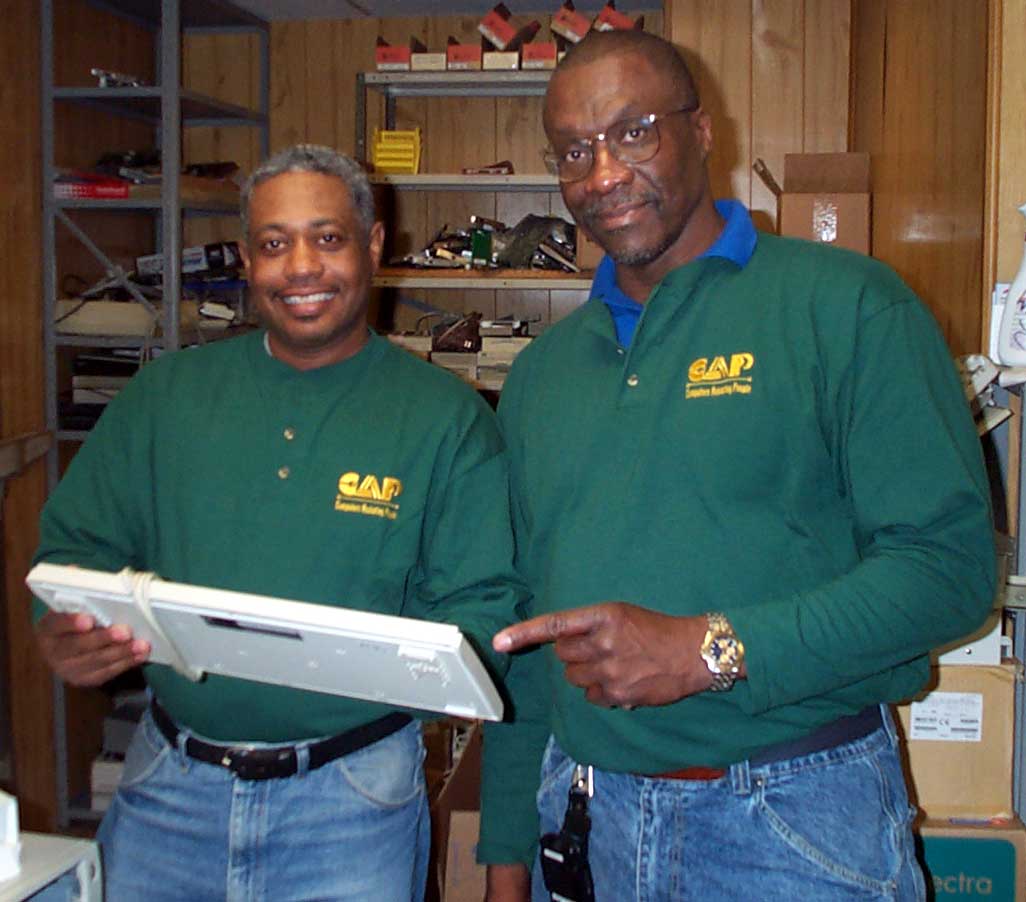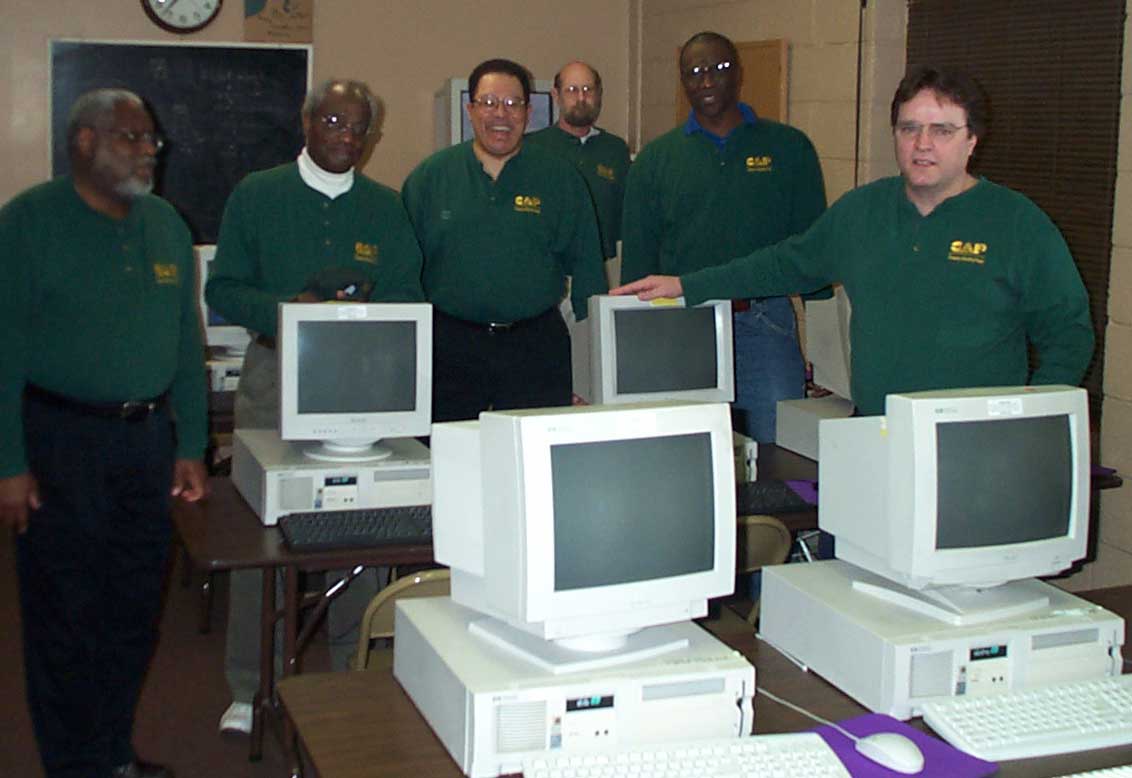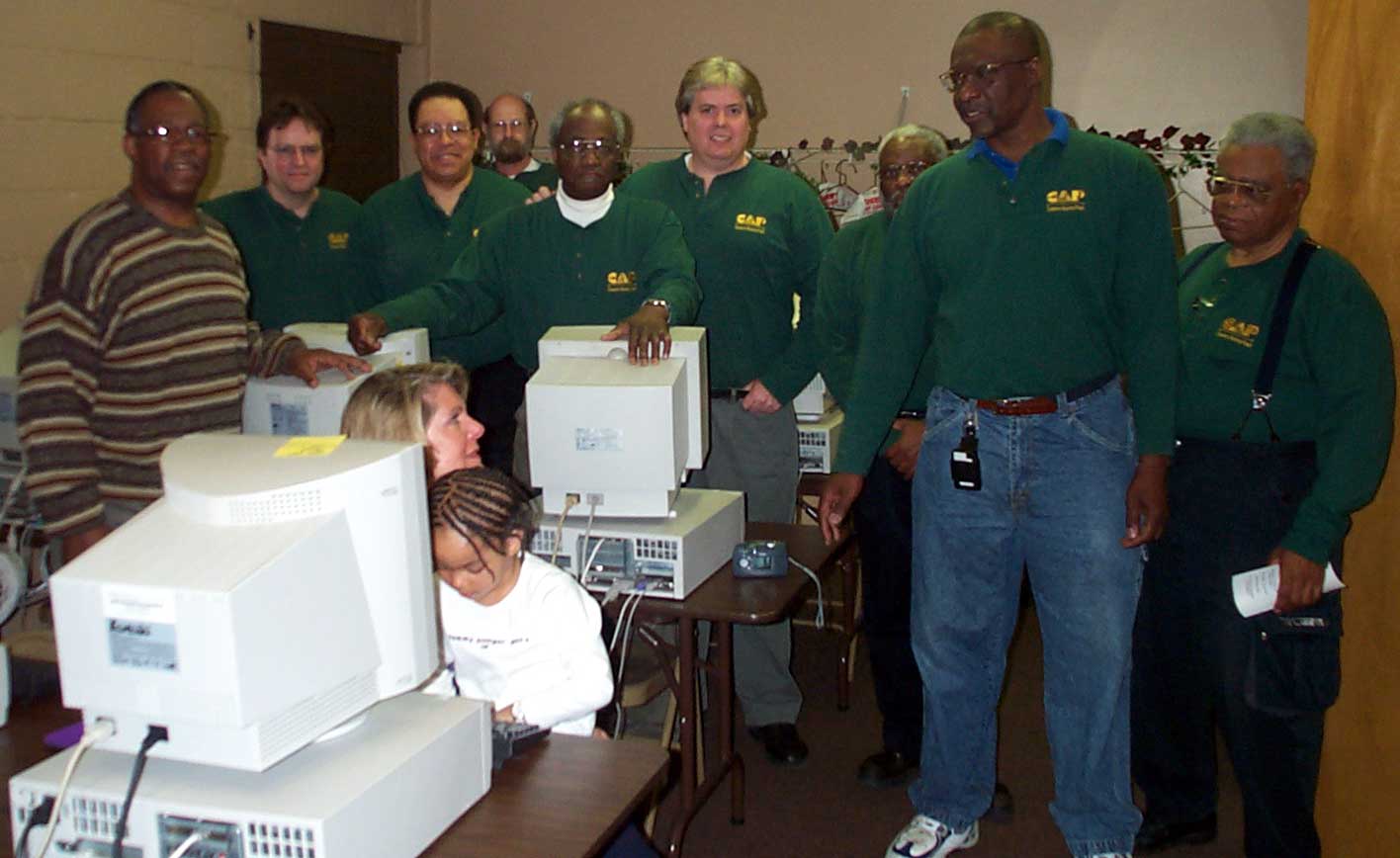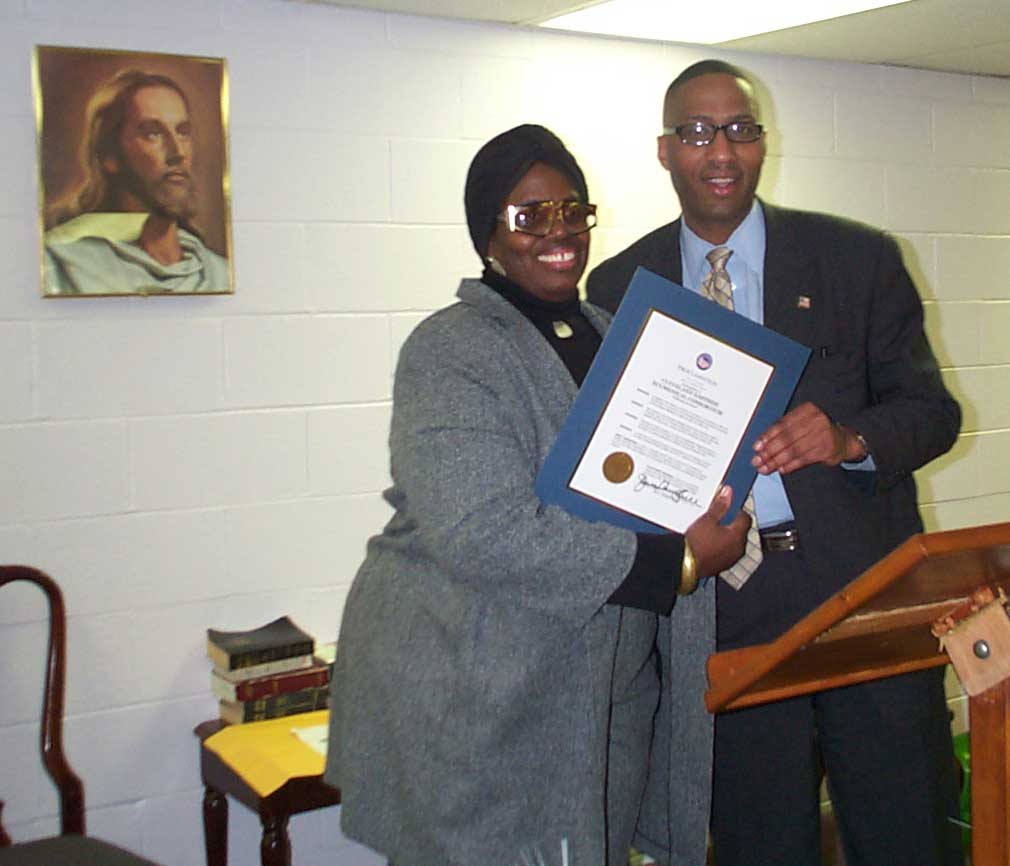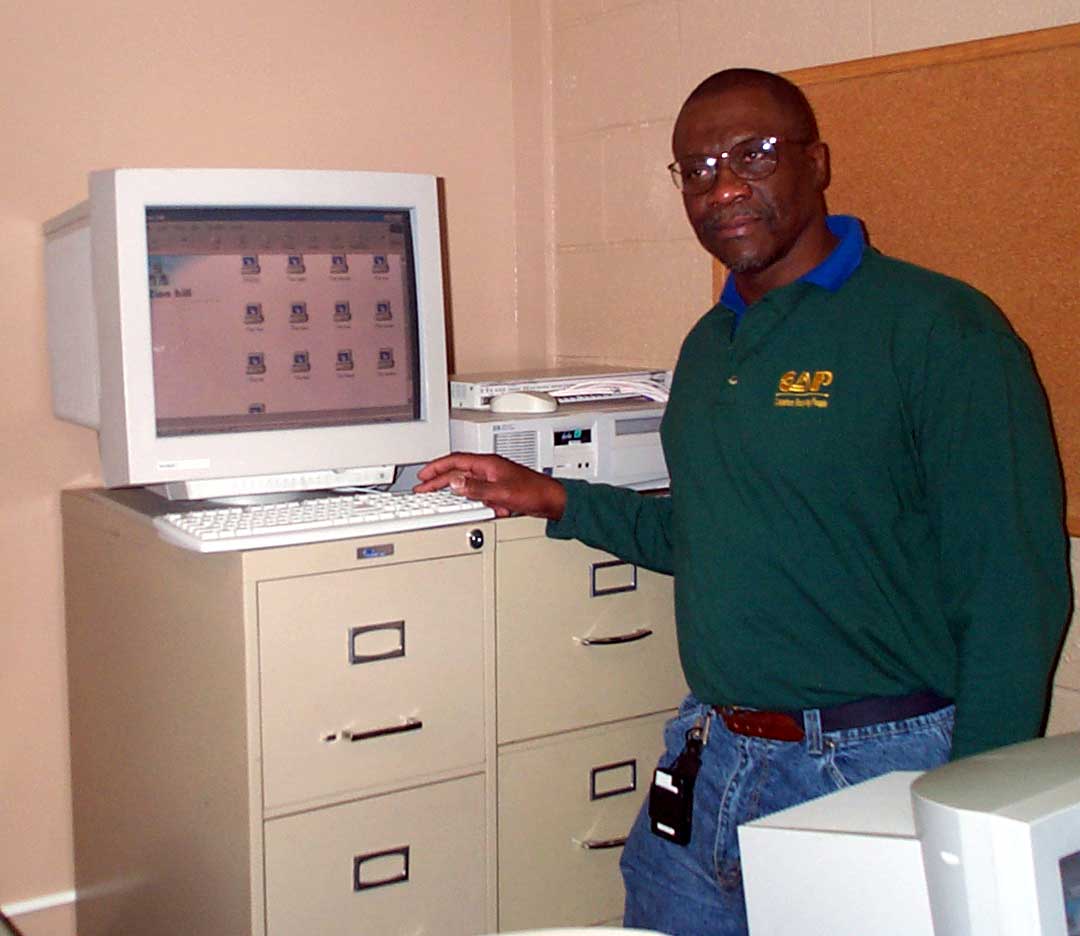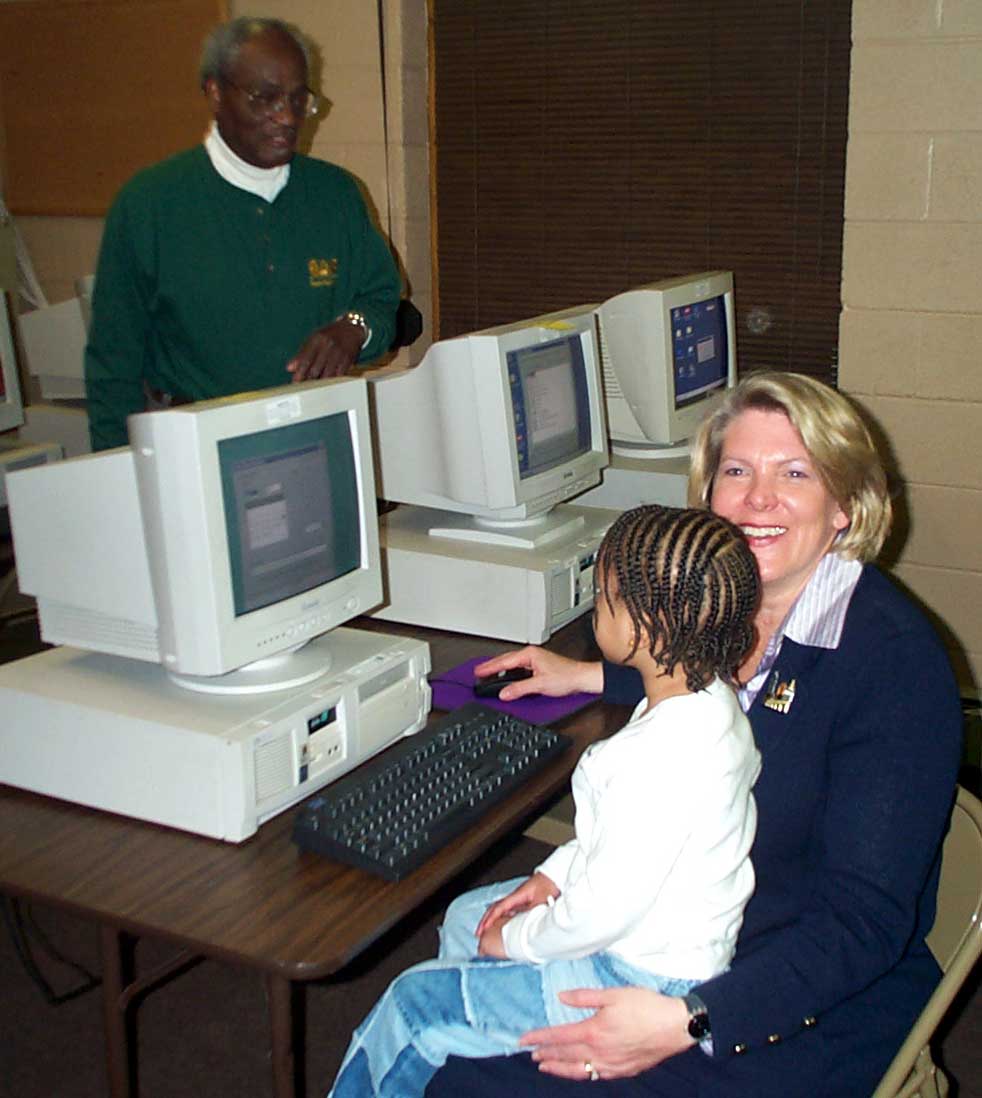 ---
Triumph the Church and Kingdom of God in Christ (9200 Miles Ave) Community Computer Lab Dedication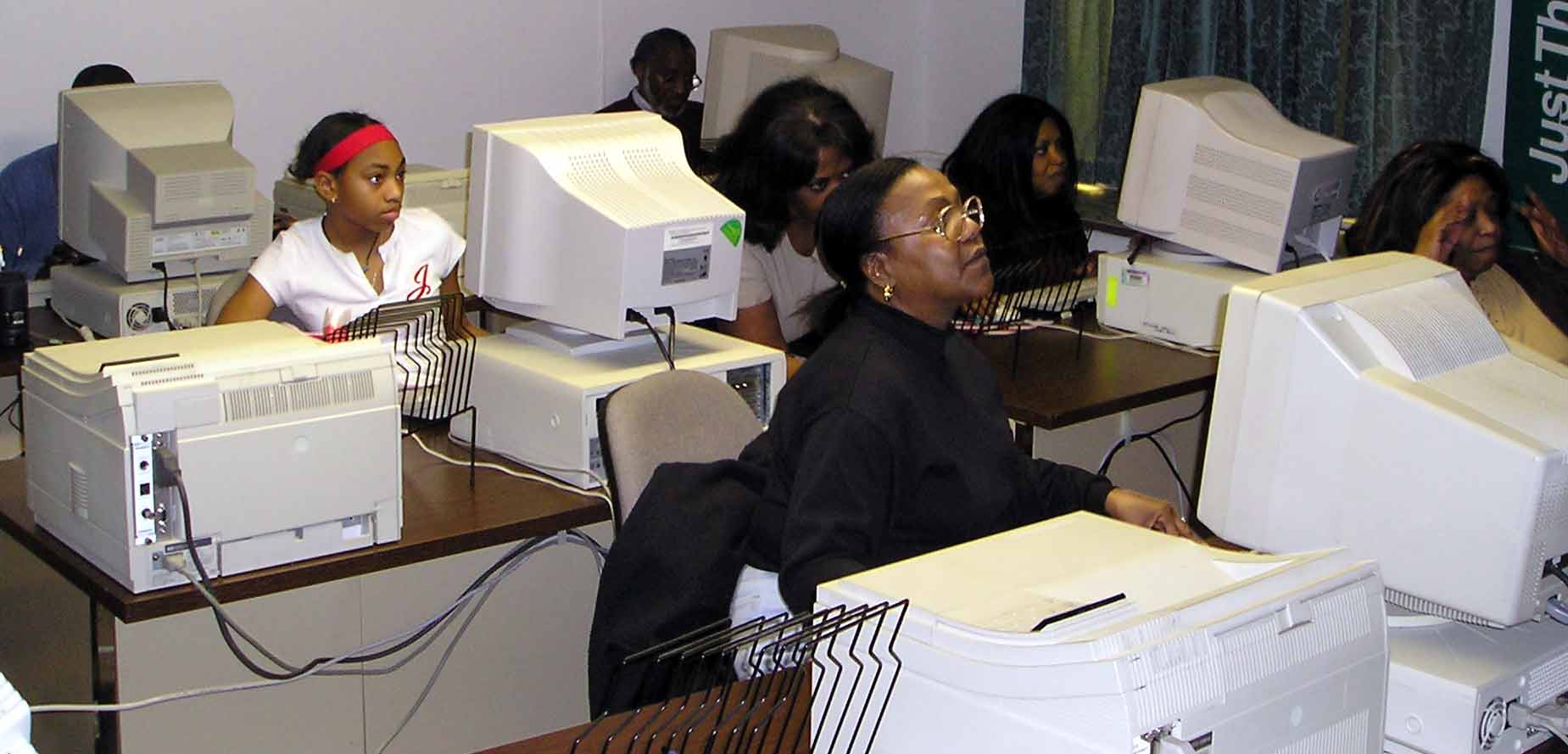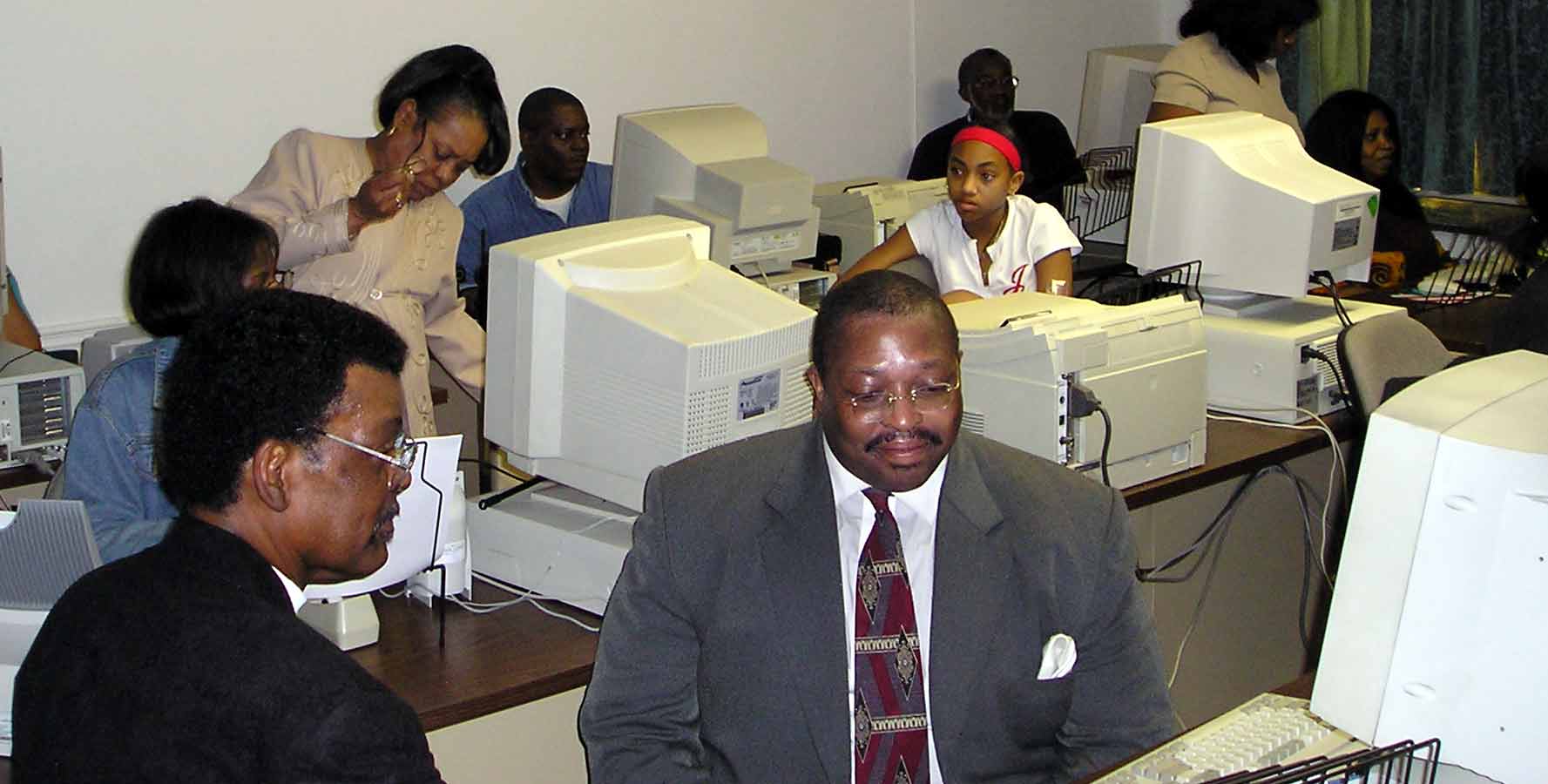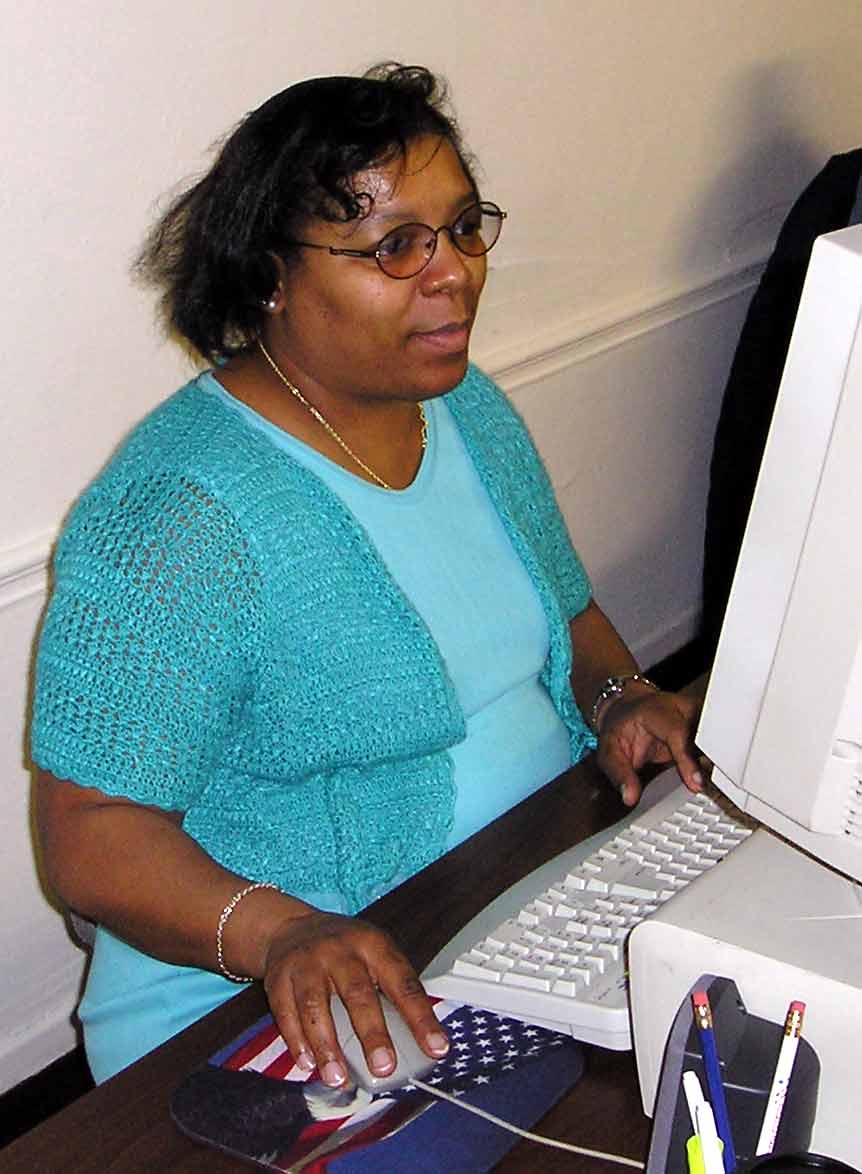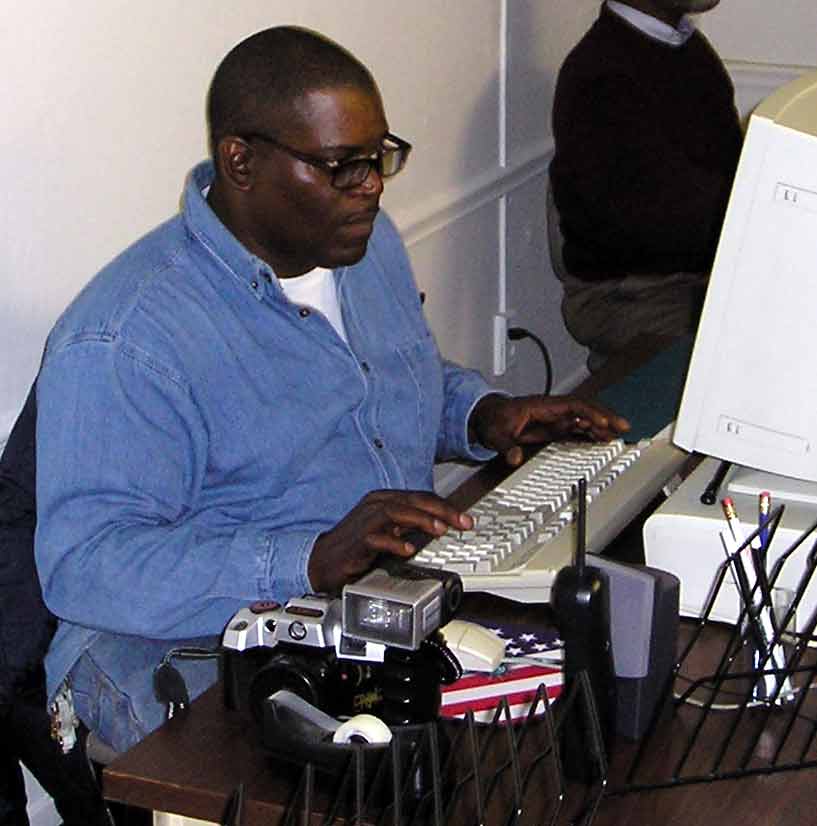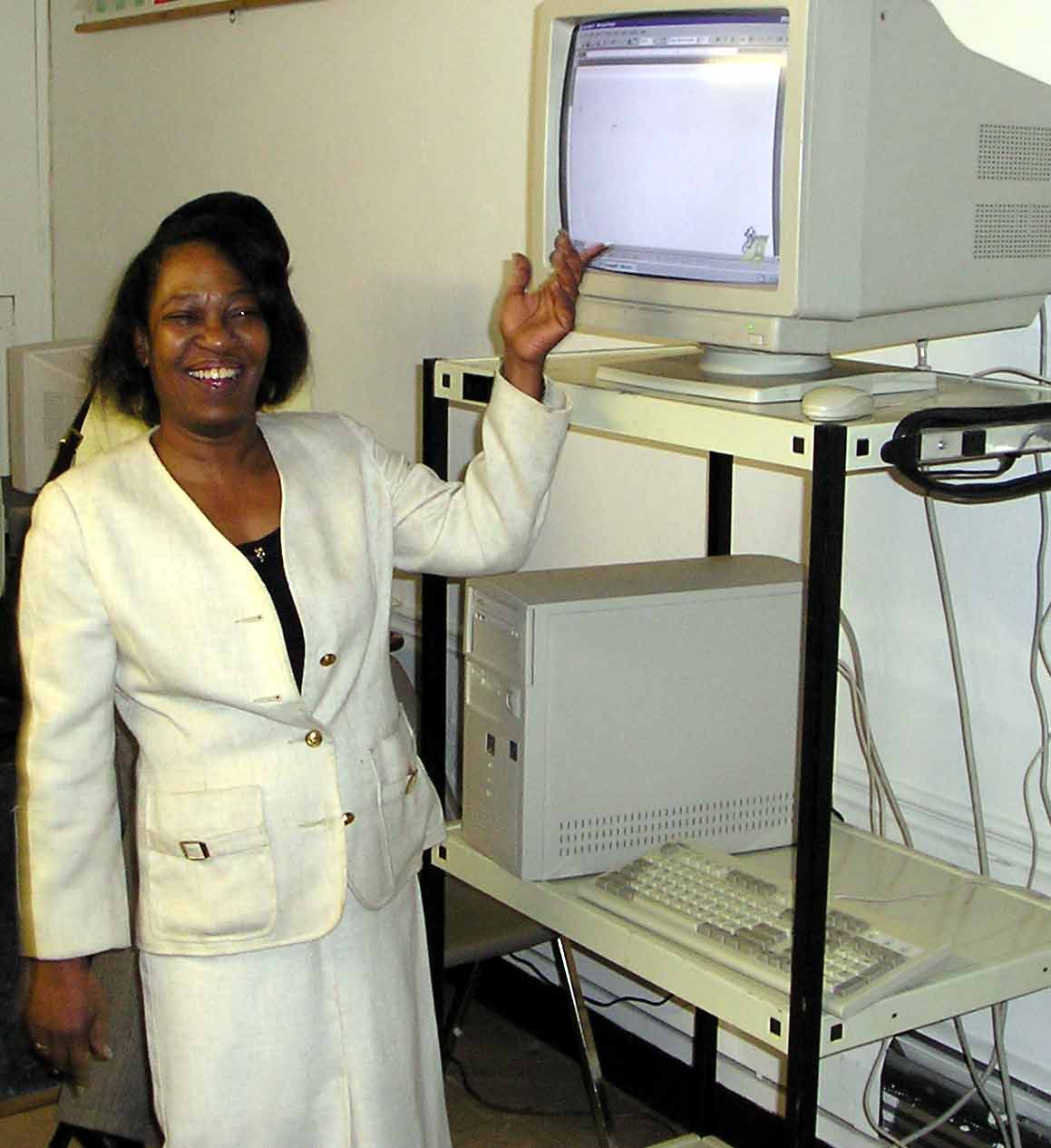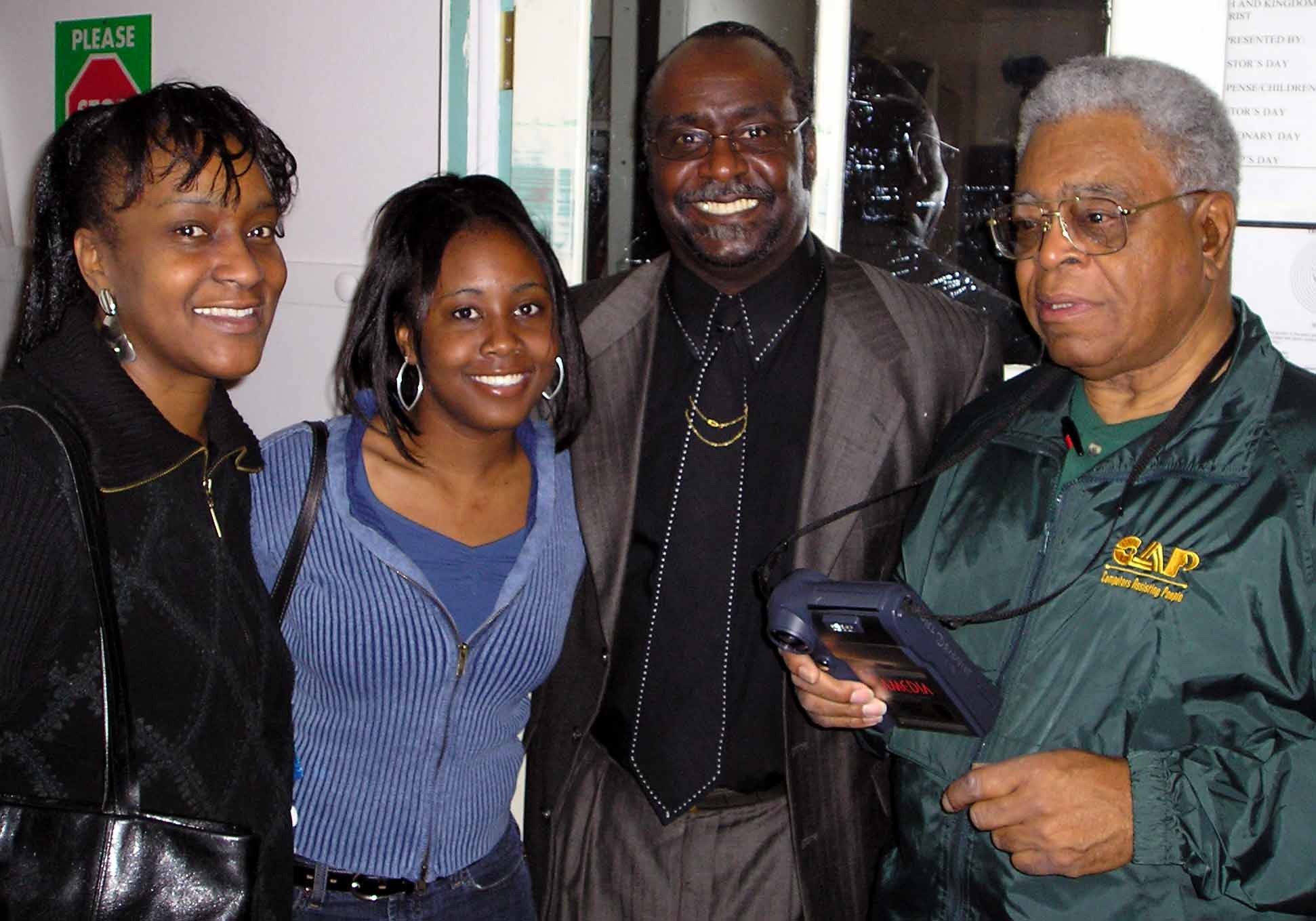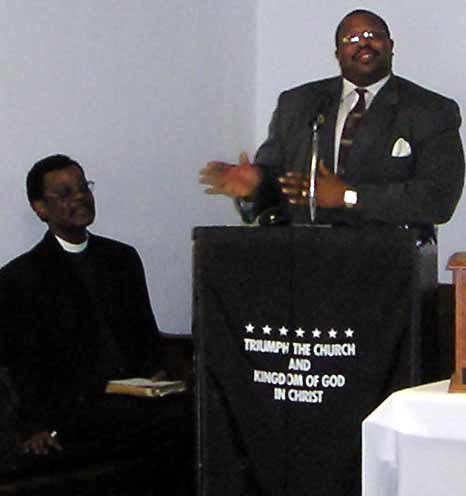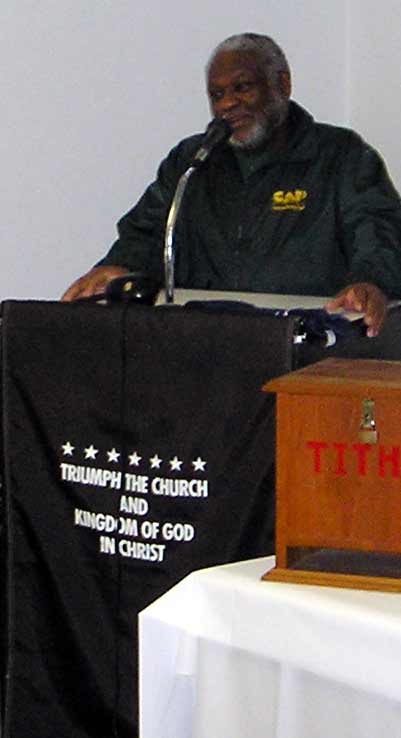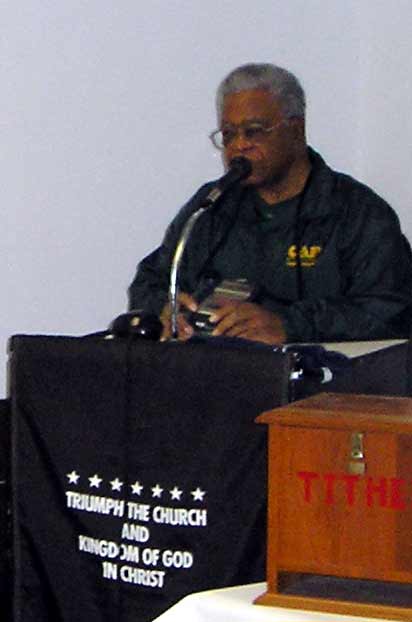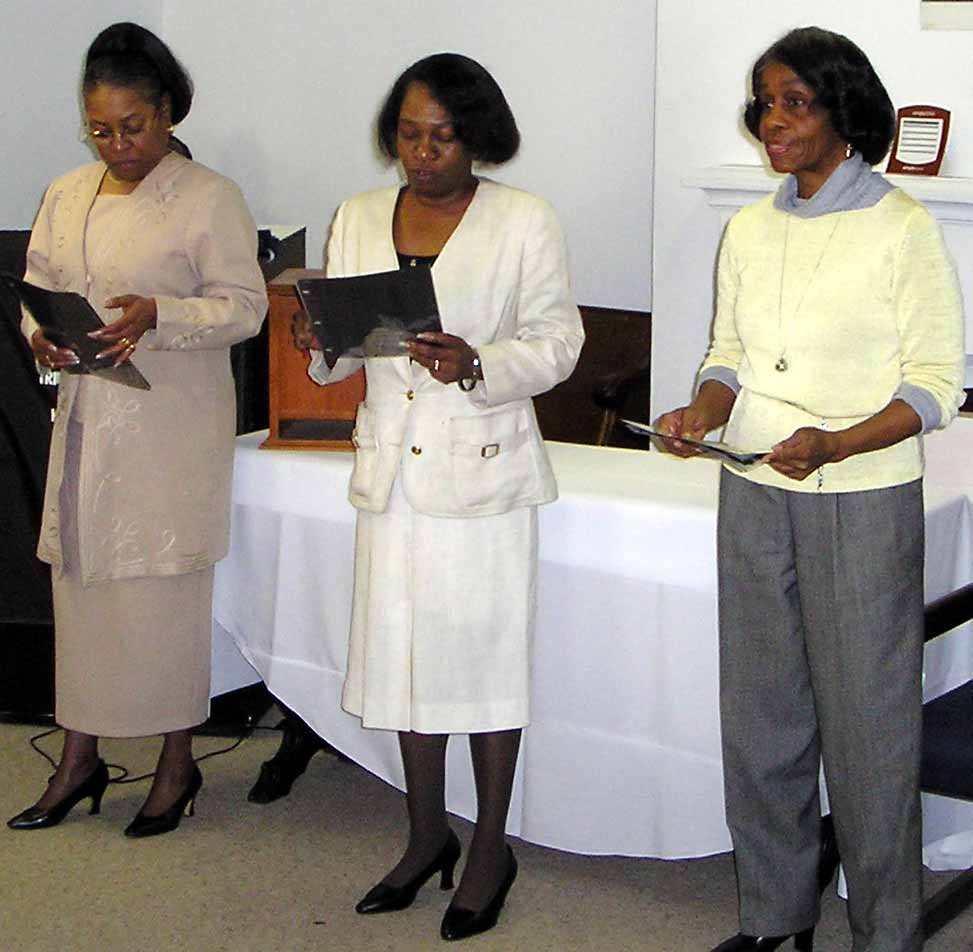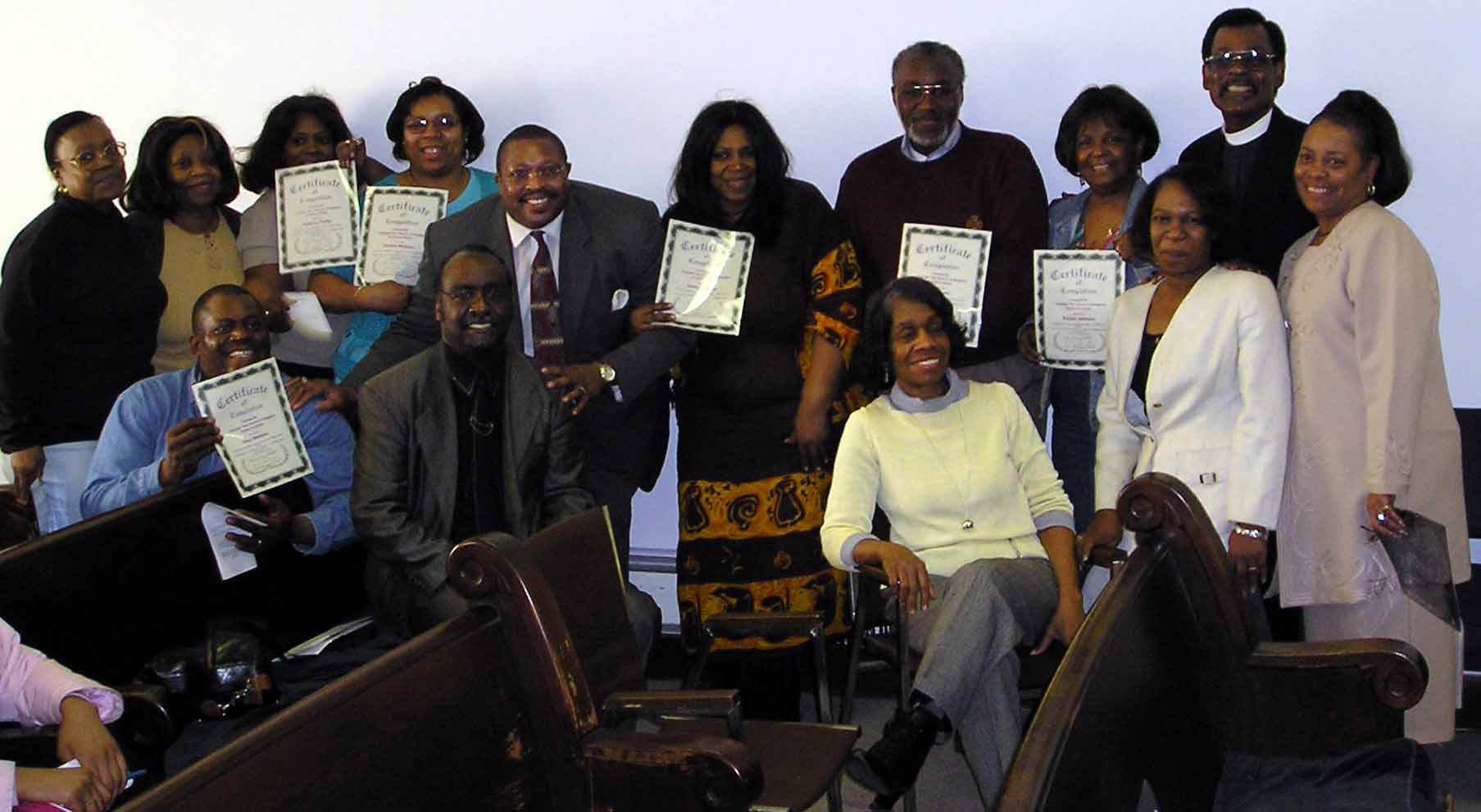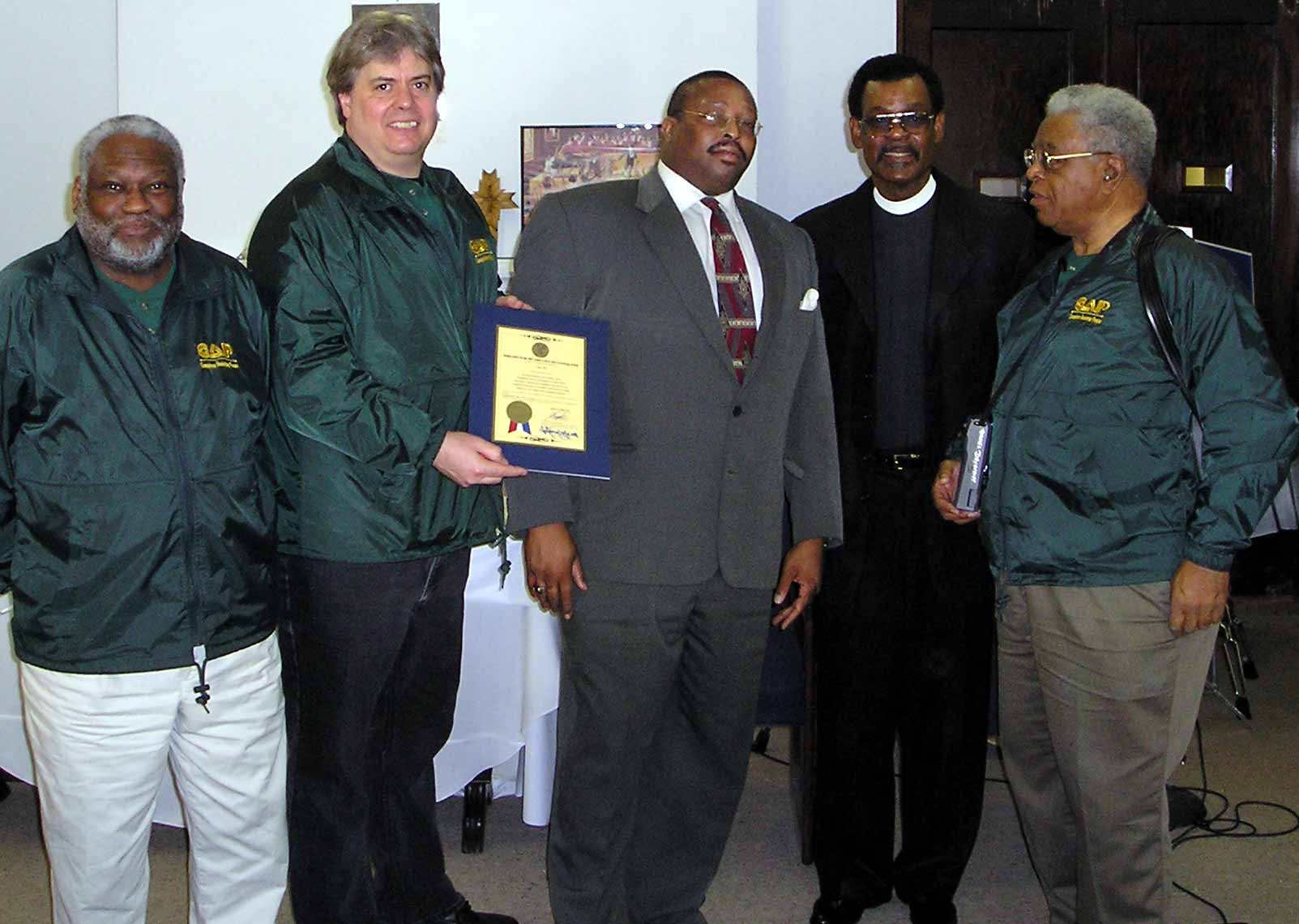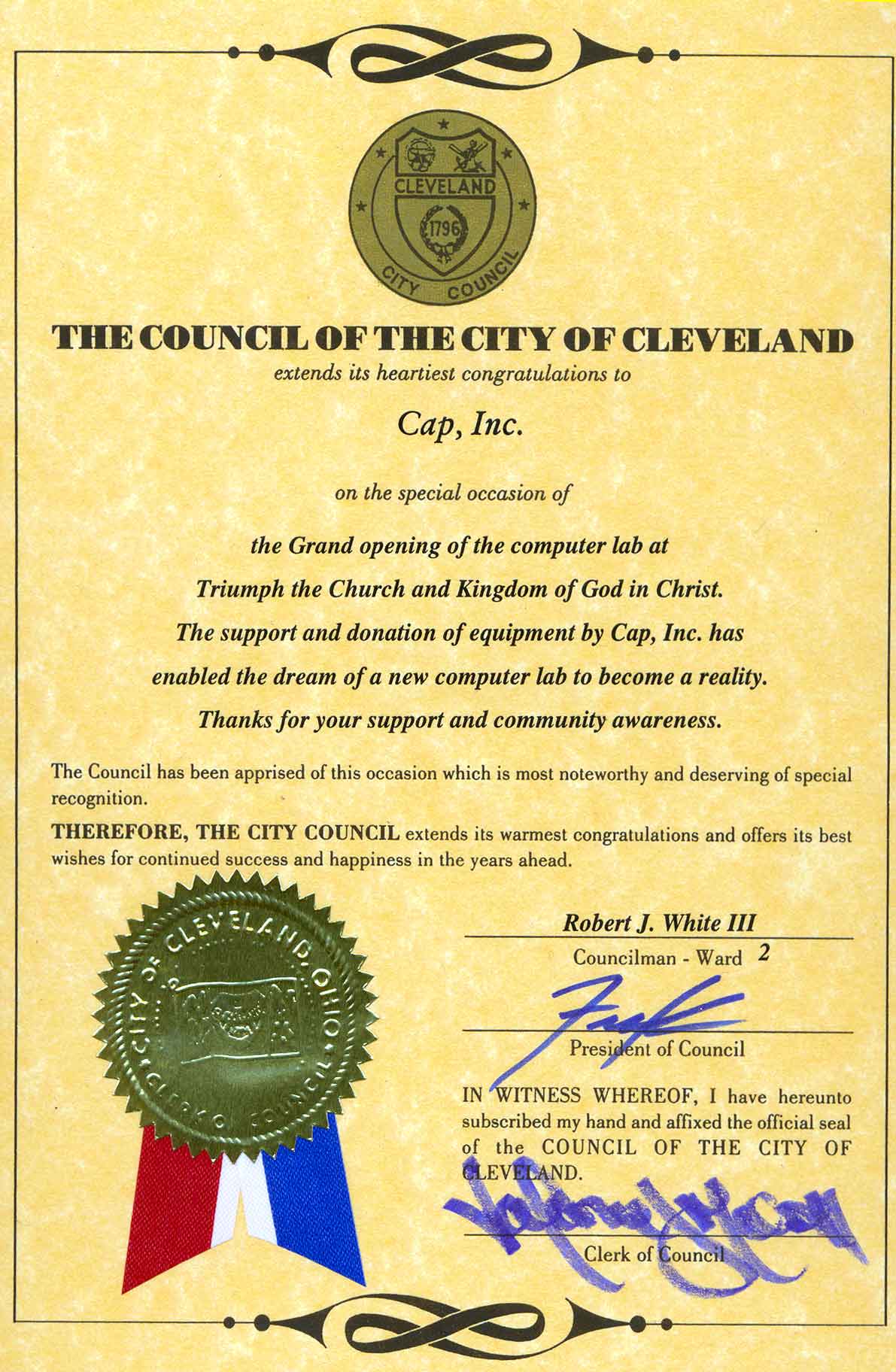 ---
CAP Helping Hands Award - Senator Sherrod Brown and Congressman Dave Joyce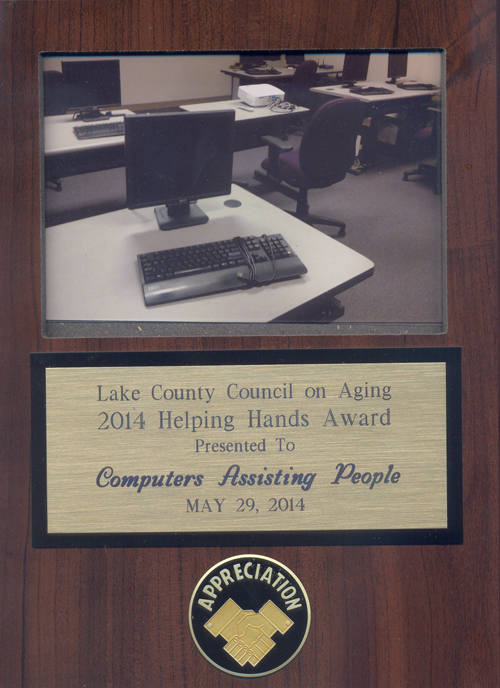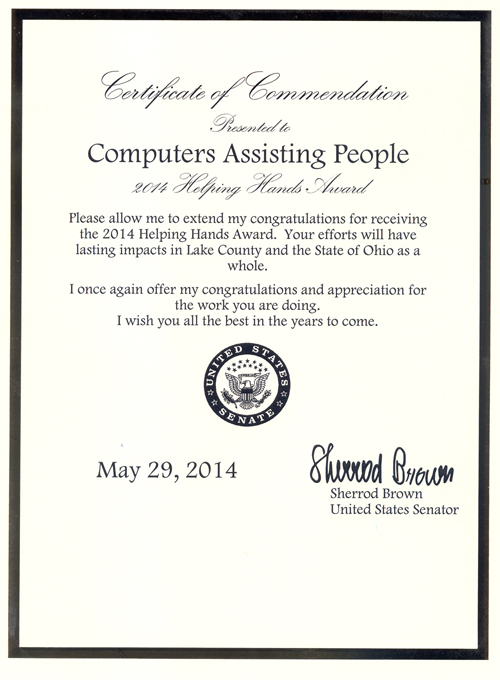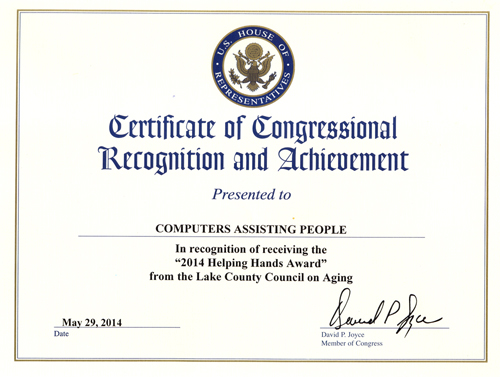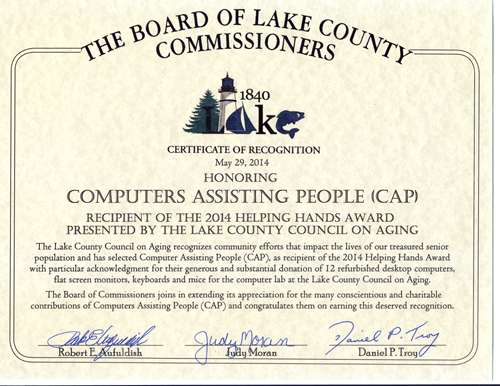 ---
Students from the 5th Computer Class at Union Grove Baptist Church computer lab at 8932 Quincy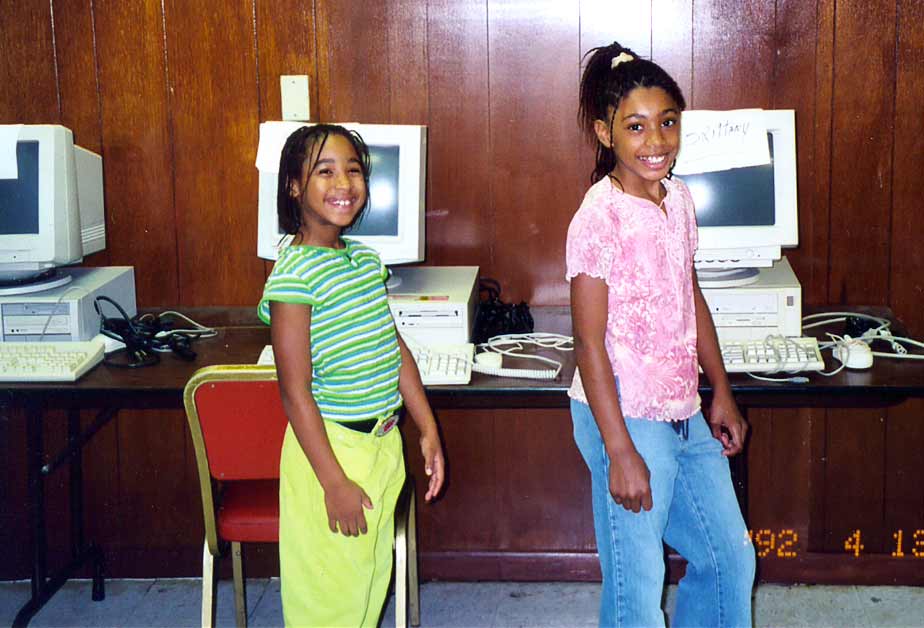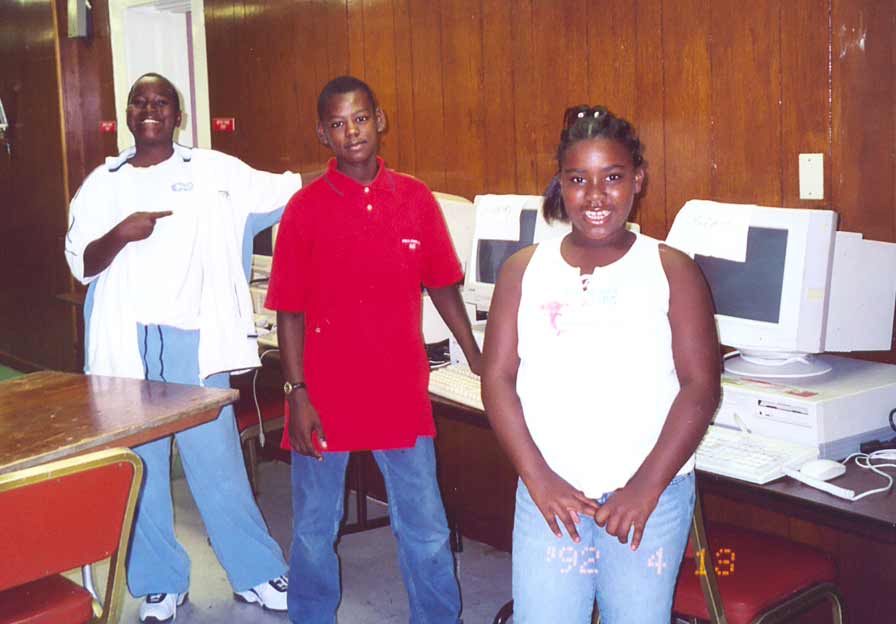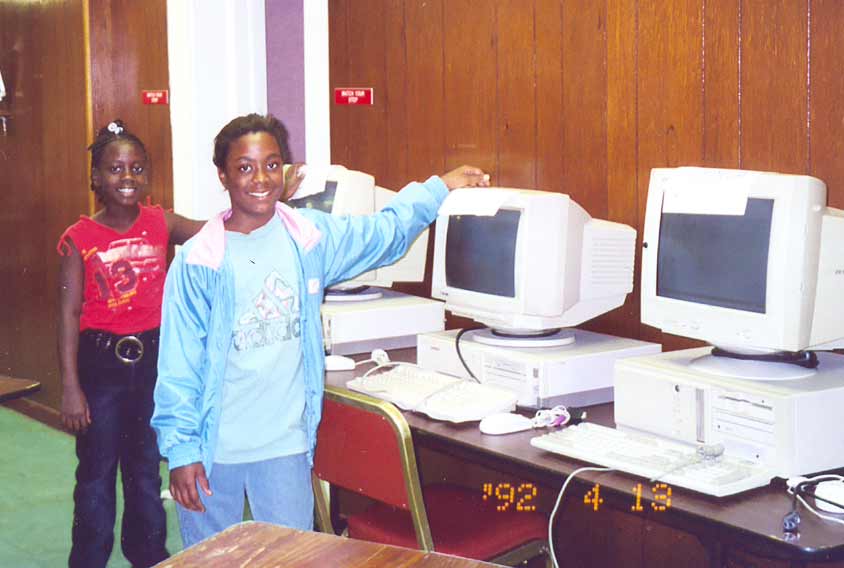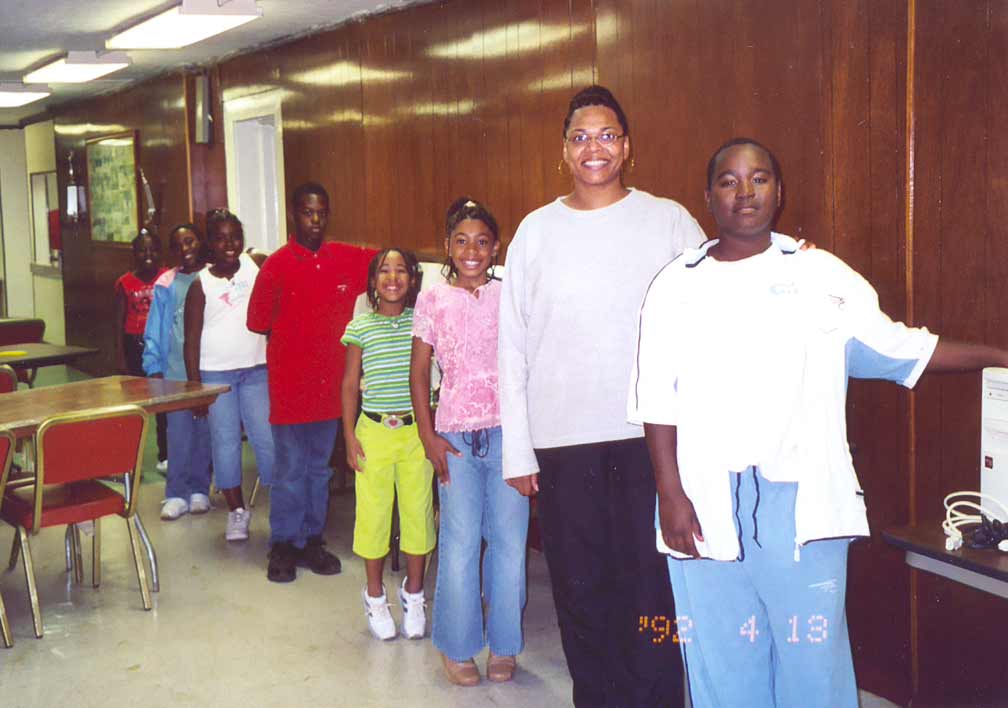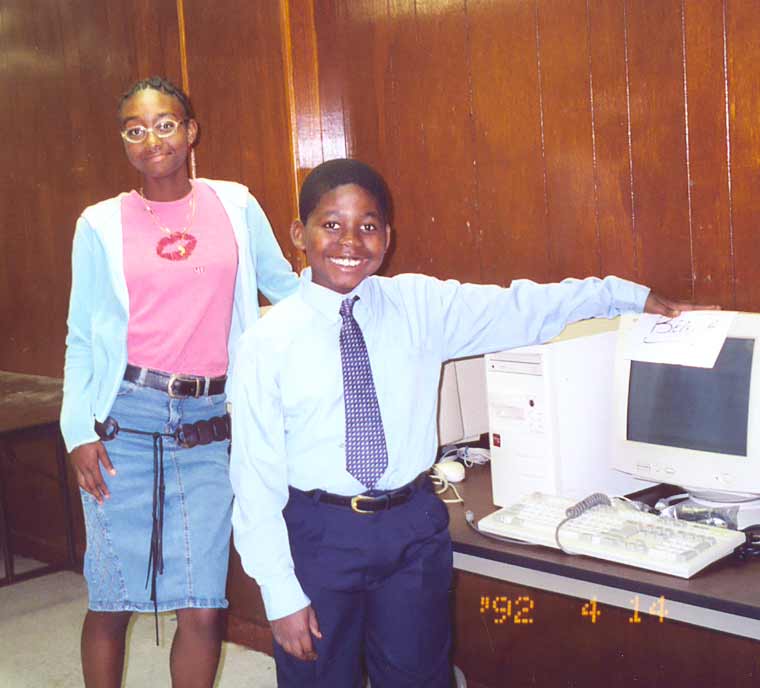 ---
If you like what CAP is doing and want to help us stay open,
you can click this button to securely make a donation to CAP through PayPal.
Top of Page
Back to Main CAP Page
Copyright 2017 Computers Assisting People Inc. - All Rights Reserved.