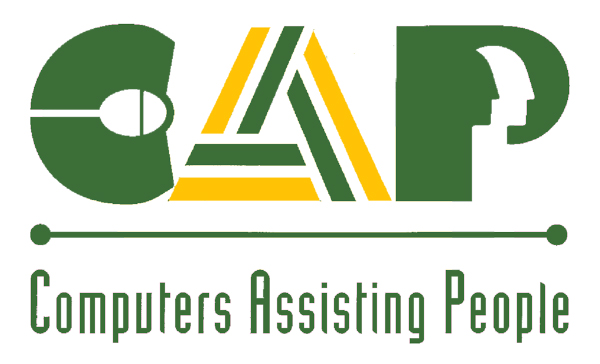 Receiving Help from Computers Assisting People
Computers Assisting People aka CAP Inc. is a 501(c)3 non-profit Ohio corporation formed in 1997. Long before the term "digital divide" became ubiquitous, CAP volunteers were working to bring the life-changing power of technology to all the people of Cleveland an beyond.

If you know of a non-profit organization that could use our help, have them send a letter to us on their letterhead to start the process rolling. If known, the letter should state what they would like to receive and how they would use the computers or assistance from us to further their mission. We will do our best to assist if we can.

Our Bylaws and Articles of Incorporation prevent us from donating directly to individuals. We can only donate to other non-profits and require a copy of their non-profit statement. Once we donate to a non-profit, they are, of course, able to use the donation as they see fit to best serve their mission.

Be aware that we are volunteers and we can only repair and give away systems that are donated to us. We try to provide appropriate software and printers if possible too. We will do our best to work with you for special cases.

CAP is a Microsoft Registered Refurbisher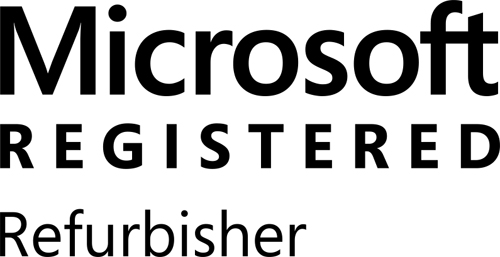 so we are able to provide legal copies of Microsoft Windows 10 and Office on our systems.

We have a stack of requests and limited resources - both in systems and volunteers. Certain requests will get preferential and speedier treatment. Because of our location in Midtown much of our work is done with non-profits in the cities of Cleveland and East Cleveland.

We also try to work in situations where we will improve the quality of life for the kinds of people we target - seniors, shut-ins, the disabled, urban poor, kids, returning vets, released felons and so on. We love working with community groups, veterans organizations, organizations that help people with a particular ailment or disability, churches, schools, senior centers, and so on.

Our volunteers particularly enjoy working with organizations that are willing to get involved and sometimes get their hands dirty if necessary. When a community center, for example, has broad support from the neighborhood and residents are willing to clean out a space, assemble tables, help install machines and set up a program for use by the community, we do all we can to assist.
Training
Over the years, CAP volunteers have trained hundreds of people from schools and organizations but also the community at large on various aspects of PCs, hardware and networks. Our wok sessions are also training sessions as an experienced volunteer can be paired with lesser skilled people and show them the ropes. Often we end up Training the Trainer for an organization. Let us know if training is something your organization needs. We are hardware specialists and our training is geared toward that.
---
Contact Information
The CAP Resource Center is located at 4415 Euclid Ave. Cleveland, OH 44115. We are on the Lower Level (press LL on the elevator)



CAP's phone number is 216-781-1757 mailbox #2
You can e-mail CAP at cap@magnuminc.com


CAP is on Facebook so please "like us"

CAP is also on Twitter

so please follow us.

Our mailing address is
Computers Assisting People Inc.
868 Montford Rd.
Cleveland, OH 44121


---
If you like what CAP is doing and want to help us stay open,
you can click this button to securely make a donation to CAP through PayPal.
Top of Page
Back to Main CAP Page
Copyright 2017 Computers Assisting People Inc. - All Rights Reserved.